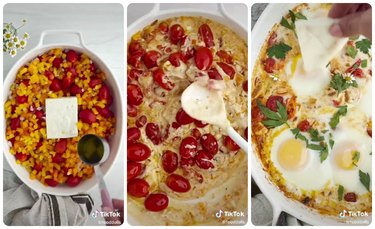 A few years ago, baked feta pasta took over social media as a super trendy (and super delicious) recipe. Since then, it has become a staple dish for many people, resulting in countless variations. One such version is baked feta eggs, which might very well be the perfect breakfast.
On TikTok, user @fooddolls explained how to make the recipe, and we can't stop drooling. It involves the same general steps as making baked feta pasta: Add a block of feta cheese to a casserole dish, then add a handful of cherry tomatoes. Next, mix in chopped onion and bell peppers, and top it all off with herbs and olive oil. Bake the dish until the feta cheese is soft enough to mix with the tomatoes.
Now, here's the fun part: Crack few eggs on top of the feta-tomato mixture, then pop everything back in the oven. Cook until the eggs are just set (though you can bake it for longer if don't like runny eggs). Your baked feta eggs are ready to enjoy.
Serve the dish with toast, crackers, or tortilla chips — or take a tip from @fooddolls and eat it with pita bread. You can even spoon baked feta eggs on a bed of roasted potatoes. Either way, something tells us this creamy and hearty dish will hit the spot.
If you're all about that baked feta life, there's a good chance you're open to other variations and ideas.
That being said, in addition to pasta and eggs, here are some ingredients that pair well with baked feta:
Roasted Brussels sprouts
Spaghetti squash
Rice or quinoa
Cooked spinach
Cooked protein of your choice, like chopped chicken
On its own, baked feta also makes a great dip for foods like chopped vegetables and crackers.