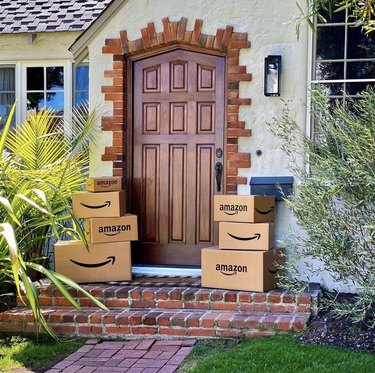 With spring cleaning right around the corner, this Amazon hack comes at the perfect time — especially if you have your eye on decluttering and donating some items in your home. Instead of recycling those Amazon boxes you receive in the mail, TikTok user @caseyyisfetchh recommends checking out a program called Give Back Box.
The creator explains that you can fill your empty Amazon boxes with items you'd like to donate like clothes, home goods, or unopened beauty products. Give Back Box will print you a shipping label that will send the box to the nearest charity organization in your area. The shipping label is free, and Give Back Box asks that you donate generously — filling the box with high quality donations, so that they can help the most people. Not only will you be giving your empty box a second life, but you'll also be making a difference in your community. It's a win-win!
One commenter wrote, "What a great way to slowly declutter your home!" while another one joked, "It's the going to the post office part that will take me 5-8 months." Give Back Box offers many ways to ship, including dropping your box off at the post office, a UPS drop off location, or a FedEx, but there's also the option of scheduling a USPS pick-up, so you don't have to leave the house. (That's good news for anyone who drives around for months at a time with donation boxes in the back seat.)
Give Back Box works with any boxes you may have lying around, and while most shipping labels are $20, Amazon box labels are always free. To start donating today, get your Amazon shipping label here. Happy decluttering!