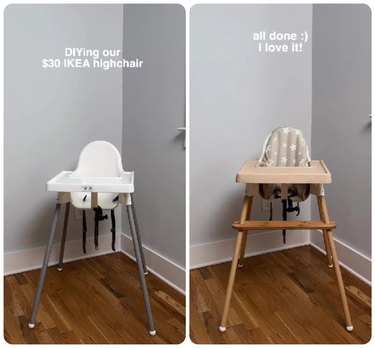 There's nothing like a brilliant IKEA hack to inspire some creativity. Case in point: On Instagram, user @jess spruced up the Antilop high chair from IKEA, and people are loving the result.
The high chair, which costs $29.99, is made of white plastic and steel legs. It even comes apart for easy transportation, making it a travel-friendly piece. Additionally, in true IKEA fashion, the design is simple yet functional, so it's an excellent "base" item for a project.
That being said, @jess demonstrated just how easy it is to customize. To give it more personality, the content creator and her partner started by removing the legs and covering them with self-adhesive bamboo wraps. (You can also use contact paper, as mentioned by Instagram users.) Next, they reinstalled the legs and added a bamboo foot rest to the chair.
At this point, the piece already looks amazing. But @jess and her partner decided to take it a step further and add a printed floral cushion, plus a silicone tray cover. Both products are light tan in color, giving the high chair an aesthetically-pleasing look.
Not to mention, the silicone tray cover paves the way for easy cleanup, as you can simply remove the cover, shake it over the garbage, and wash it in the sink.
"You took this from a three to a 10," said one Instagram user. "This is [an] adorable transformation," commented another person.
If you're interested in recreating this DIY, you'll be glad to know that all of the items @jess used are available from Yeah Baby Goods — a company that makes products specifically for the Antilop chair. (How cool is that?)
Basically, Yeah Baby Goods offers a variety of patterned cushion covers, food-grade silicone tray covers, foot rests, and self-adhesive leg wraps. This way, you can customize the IKEA high chair to match your existing home decor. So fun!