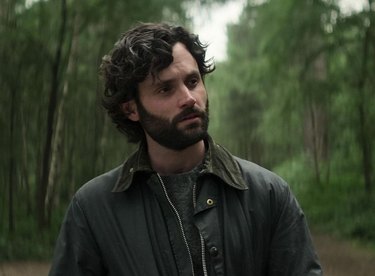 The time has finally arrived: ‌You‌ season four has just landed on Netflix and we couldn't be more excited. Joe Goldberg is back — but this time as Professor Jonathan Moore — in the city of London where he hopes to distance himself from the dark and twisted events of his past. However, for someone trying to keep a low profile, Goldberg lives in a pretty stunning apartment, so we did some research to figure out just how much the place is worth.
One of the perks of Goldberg's new job as a professor is the housing. It's unclear whether or not he's paying out of pocket, but since another professor lives just across the way, we are led to believe that these accommodations are all part of the gig.
The apartment resides somewhere on Kynance Mews, a picturesque cobblestone street in South Kensington, London. The row of homes are noted by an arched entrance to the street. Formerly used as stables, the vine-covered buildings are just so charming, they don't look real.
The exterior is photographer's dream, so that already means that London realtors can charge a little more. For example, this three-bed, two-bath home is on the market for 3,000 pounds per week, equivalent to $3,619.20 in U.S. dollars.
In terms of buying a home, according to data by Right Move, houses have sold for between 1,100,000 pounds and 2,750,000 pounds in the past three years — between $1.3 million and $3.3 million.
If Goldberg is truly staying there on the university's dime, we think that's a pretty sweet deal. Plus, as he says in the show, he feels like he's living in a Hugh Grant movie — and we can see why. A place fit for a killer ... er, we mean king.