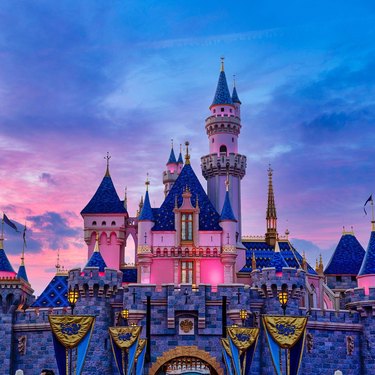 It's a rather common thing to want to be a Disney princess when you're a kid, but to actually get to live in a princess-inspired home? Now that's a dream come true.
This is a reality for some of the residents of Golden Oaks. The highly exclusive development within the Walt Disney World Resort in Florida is sprinkled with houses designed by Disney Imagineers.
Blogger Cristie Anne Cabrera of The Traveling Red is one of the lucky few who live in a home fit for a Disney princess — for ‌Beauty and the Beast‌'s Belle, to be specific.
Cabrera and her family own a home in the Cottages at Symphony Grove, a neighborhood where the residences were designed specifically to look like Belle's cottage inside and out. On TikTok (@thetravelingred), she gives her followers a peek inside the themed home.
On the outside, the structure features half-timber façades, while the interiors show off distressed wood floors and vaulted ceilings with timber trusses. And, yes, the house does have hidden Mickeys throughout — more than 50 of them.
If you're looking to experience your own Belle's cottage, you're out of luck at the moment — there are just two houses on the market in Golden Oaks, and neither feature the provincial French architecture of Cabrera's home. (For what it's worth, those two houses cost $6 million and $9.5 million, respectively.)
Now, if you want to go for the real deal, you can head to the villages of Riquewihr and Ribeauvillé in France's Alsace region, which served as the animators' inspiration for Belle's town. The colorful buildings look just like a movie set — but it's 100 percent real life. (And the real estate is ‌much‌ cheaper, too.)