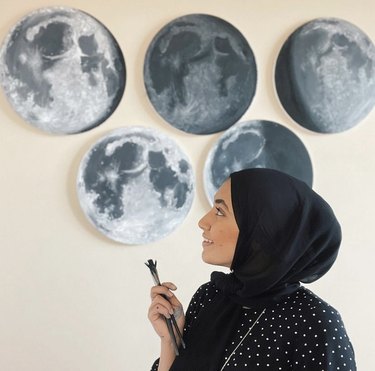 Creativity knows no bounds on TikTok. You can find almost anything on the social media platform, including home decor DIYs, wellness tips, "get ready with me" videos, dancers, musicians, and sketch comedians. With so many communities and videos to explore, there is one pocket of TikTok that is especially inspiring to us, and that belongs to the many visual artists who are showcasing their work and sharing their creative processes at the same time.
The visual art that is being featured on the platform has made art more accessible, and creators range from painters to sculptors to potters to illustrators. What makes these accounts especially fun to follow is that they're not only sharing their art but they're also giving us a behind-the-scenes look into their lives as artists.
We've rounded up just a few of our favorite TikTok artists, and we hope their work gives you all the inspiration you could ever ask for when scrolling through the platform.
Stargazing on her blueberry farm is where painter Zarah Khan gets inspiration for her round celestial paintings. Based in the Pacific Northwest, Khan paints hyperrealistic moons and planets on round canvases. Even though we all can't live in the countryside surrounded by nature, Khan hopes that her art will help others feel a little more connected to our planet.
"My mission is to create artwork that connects my audience with nature, our planet, and our universe," Khan writes on her Etsy shop page. "[I hope it] inspires them to want to protect and preserve this home we have."
Ollie Smither is a fine-line illustrator based in Devon, U.K., and his work is inspired by the beauty of nature. He lives in a sun-soaked camper van with his dog, and his TikTok is full of videos of him drawing outdoor scenes in front of a beautiful skylight.
"Whether you're an avid hiker or simply enjoy spending time outside, I hope my artwork reminds you of the joy and peace that can be found in nature," Smither shares with Hunker. "Ultimately, I hope it brings a little bit of the outdoors into people's homes and inspires them to get outside and experience the wonders of nature for themselves." His illustrations not only make great framed prints for the outdoor enthusiast but they also serve as fantastic inspiration for tattoos.
3. Leila Thompson, text-based painter and punch needler, @lmtweet
Leila Thompson, better known as @lmtweet, has a colorful and fun presence on TikTok, where she shares her whimsical punch needle projects mixed with voiceovers about her life and business. Thompson sells punch needle kits that include everything you need to start punch needling at home. This form of embroidery is primarily used to make rugs, and even though there are machines that can do this, Thompson prefers to punch needle by hand. Her kits encourage others to do the same.
Amber Budden's TikTok is filled with her stunning oil paintings set to beautiful music, and watching her videos is akin to taking a long exhale. You may even look twice since her paintings could be mistaken for photographs. Budden's primary subject is the ocean, and painting bodies of water is like meditation for her.
"I can spend hours getting lost in the depths of the sea, attempting to capture the tension before a wave breaks or the stillness and anticipation before a storm," Budden writes on her website. "The ability of the ocean to create calm and contentment is well known, and I aim for my creations to harness this healing power, quieting the mind and creating a sense of safety."
Uma Leoni is a painter and content creator whose TikTok gives her followers a peek into her life as a full-time artist. Leoni's colorful, abstract pieces are inspired by graffiti, and her work can be found on T-shirts, denim, totes, canvases, and prints. Her main content centers around her life as an entrepreneur, featuring lots of day-in-the-life videos that include her painting, heading to pop-ups, and running her business.
If you consider yourself a cat person, you're going to love the cat-themed pottery that ceramicist Tessa Reed creates. Their most recent batch of ceramics was a large order of mugs and tiny cats, and Reed's own cat Charlie makes regular appearances in their TikToks.
"The original inspiration for my cat-themed ceramics was through my job as a purrista for Catfe, Vancouver's first cat cafe, while I was attending university for ceramics back in 2015," Reed tells Hunker. "Being surrounded by cute, adoptable felines during my day job fed my creative soul, and Tessaramics was born! I later adopted my sweet kitty, Charlie, who is now my grumpy-faced muse and face of the company."
Consider yourself lucky if you've spotted artist Devon Rodriguez on the New York City subway, as he draws and paints incredibly detailed portraits of people on the train and then surprises them by gifting them with the artwork. His entire TikTok feed contains videos of this simple and profound gesture, and the shocked looks on the faces of the recipients never gets old.
Loes Eigenaar swapped screen time for embroidery and hasn't looked back. Based in the Netherlands, they specialize in embroidery projects of plants and interiors (dubbed "embroidery for plant hoarders" on their Etsy page), and they sell embroidery kits and patterns as well. "I find it great how hand embroidery designs can put me at ease and spark creativity," they write on Etsy. "With my embroidery patterns and kits, I hope to bring others the same."