Is there anything better than pie? Well, if you visit Aldi, you might very well find a worthy candidate. According to shoppers on Reddit, the popular retailer just brought back its frozen chocolate-covered banana cream pie bites, and they sound like a dream.
The tiny treats are described as "decadent banana cream filling with a butter and graham crust enrobed in a rich chocolatey coating." One package costs $4.99 and contains 10 frozen bites, which are supposed to partially thawed before enjoying.
"There are one of the most addictive, delicious, devourable things I've ever consumed," said one shopper on Reddit. "Take my money now!" exclaimed another person.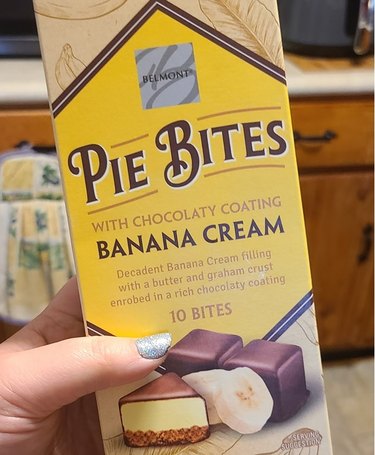 If you're not a fan of banana cream pie — or if you can't get enough of this dessert — you'll be glad to know that the bites are available in multiple flavors. According to the Aldi website, it also comes in coconut cream and key lime versions; both sound just as tasty.
As with most of Aldi's specialty goodies, the banana cream pie bites won't be around forever. Some shoppers have already reported finding only one box of the product at their Aldi stores, so it seems to be a popular item.
You can find the closest Aldi near you by using the retailer's store directory.
Other new products at Aldi:
If you're a fan of rainbows and colorful home decor, you'll want to swing by the home section at Aldi. According to @theamazingaldi, the retailer is selling a darling rainbow-shaped door mat for just $8.99. There are also new seasonal candles for Valentine's Day, including ones shaped like macaroons. So fun!
Aldi is also offering strawberry and cherry shortbread hearts, just in time for Valentine's Day. Each package costs just $2.49, making it a great addition to this year's holiday dessert boards and spreads.