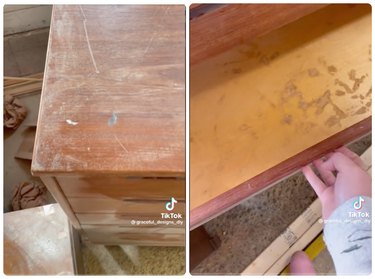 TikTok user @graceful_designs_diy recently shared a video of a midcentury modern dresser restoration project, and the results are sure to inspire DIY fans everywhere to head straight to their local thrift shop in hopes of landing a similar score.
The restored piece was an HJN Mobler dresser imported from Denmark in the '50s. The dresser was in pretty rough shape when acquired by the TikToker, who found it while scouring a local thrift store for deals. We'd call this a one-of-a-kind find.
The dresser was completely refurbished with just a bit of sanding, buffing, and reconditioning. The result: a beautiful, glossy, and vibrant dresser that looks like it just came off a showroom floor.
In the video, the TikToker shared their steps to clean up the once-shabby piece of furniture, starting with the drawers. To deal with old adhesive residue inside the drawers, they used 180-grit sandpaper to sand down the insides before reconditioning the wood. Deep scratches on the top of the piece were buffed out using teak oil, which also acts as a moisturizer for the wood. Next up, a buffing with 220-grit sandpaper on the top of the dresser. Using such fine grit on the super-thin veneer helped preserve the finish and avoided damaging it beyond repair. After removing all the scratches, polyurethane was used to add a protective finish.
This midcentury dresser restoration project is an excellent reminder of the power of DIY projects and why vintage furniture pieces are often worth the effort. With the proper care and attention, pieces like this can be restored to their former glory.