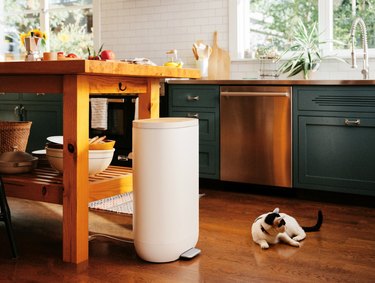 This week, the team behind smart home company Nest, best known for thermostats and security cameras, launched Mill, a new subscription-based trash can for the home that is an easy way to prevent food waste.
Created by Harry Tannenbaum and Matt Rogers, who started his career at Apple before founding Nest, Mill aims to simplify the process of composting within the home and helps to address the abundance of food waste — what Rogers calls one of the world's most significant sustainability issues.
"Mill makes it easy to do the right thing. Food isn't trash. But until today, it was hard to do anything except throw uneaten food in the garbage," says Rogers in a press release.
During the day, the Mill bin can accept a wide range of kitchen scraps, from chicken bones and dairy to vegetables. Overnight, the bin dries, shrinks, and deodorizes kitchen scraps into nutrient-rich food grounds.
Mill hopes to revolutionize how we deal with food waste in the home by creating a better kitchen experience while offering a practical way for individuals to take impactful climate action. Subscribers can track the amount of food waste they divert from landfills and the carbon saved when ingredients are recycled through a companion app.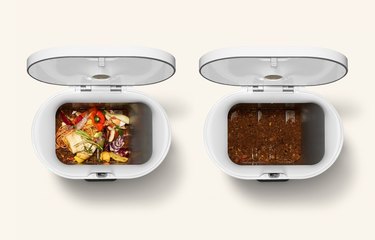 Once the bin is full — which takes a few weeks — the food grounds are emptied into a pre-paid box, and a pick-up can be scheduled from the Mill app with USPS. From there, Mill turns the food grounds into a chicken feed for farms.
"The Mill Membership is a simple way to keep food out of landfills, send it back to farms, and make your kitchen smell awesome. From my time at Nest, we know that a small step at home can have a positive impact for people and the planet," explains Rogers.
The membership, billed at $396 annually, includes the Mill kitchen bin, the companion app, shipping for food grounds, replacement charcoal filters, customer support, and a warranty. Mill is also available as a $45 per month plan with an additional $75 for shipping.
Time to scrap food scraps.