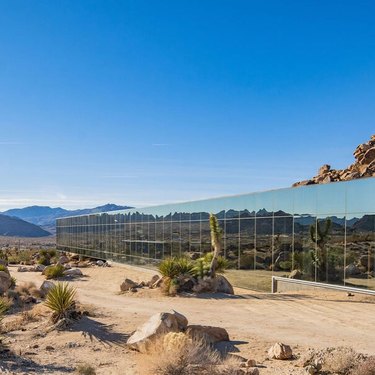 As the old saying goes, "people who live in glass houses shouldn't throw stones." Up until now, you probably thought you could toss a few — but you may need to rethink that if you live in this stunning Joshua Tree, California, home.
Dubbed the "Invisible House," for obvious reasons, this glass home was built on 67.5 acres in the Joshua Tree desert, as shared by Instagrammer @zillowgonewild. Designed by film producer Chris Hanley and Frank Gehry collaborator Tomas Osinski, the Invisible House was built to directly connect the home with the surrounding environment. Through a modern mirrored glass exterior that bridges the gap between indoor and outdoor spaces, the structure is seemingly indistinguishable from the surrounding rocky desert landscape.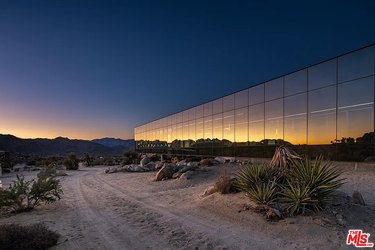 Each living area of the three-bed, four-bath home is connected to an entire wall of sliding glass doors that open out to the wilderness. Some other highlights include a showstopping 100-foot heated swimming pool that runs along the length of the west wall and a chef's kitchen with dual ovens, separate refrigerator and freezer storage, and white marble surfaces.
In keeping with the theme of being connected to nature, the home is genuinely off-the-grid, relying on various solar panels and Tesla Powerwall batteries to keep the 5,500-square-foot home running — even the heating system for the pool is supplied via a series of solar panels. The roof features a special coating that reflects 95% of the sun's heat, and the house is built adjacent to rock formations for additional passive solar heating and cooling.
See the complete listing on Zillow here and maybe check in with your pals to see if anyone has an extra $18 million lying around.