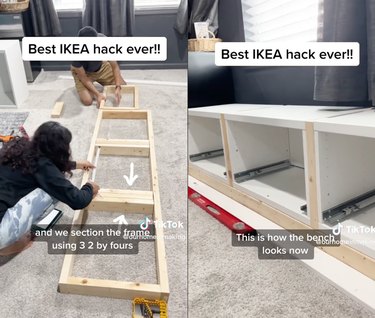 It's amazing what one can accomplish with a little creativity. DIY aficionados are quick to innovate clever ways to make their own furniture and housewares, especially when what they want requires some customization. TikToker @Gowthami is one such DIY extraordinaire, who has just shared a fascinating step-by-step video detailing the way they built a window bench with storage for their media room using IKEA Besta cabinets.
"I know they aren't very strong for people to sit on them, but hear me out ... " the crafty mom prefaces about the Besta cabinets at the beginning of the video. They start off by assembling the Besta cabinets (with some help from their daughter), and then build a base frame using two-by-fours joined together with simple butt joints.
They positioned this base frame against the wall beneath the window where they wanted the bench to live, and then added the Besta cabinets, putting two-by-fours between each for added support. They added one-by-fours to the top of the cabinets to continue strengthening the structure of the bench. "If you notice the cabinets are now surrounded by wood from all sides and weight will not fall on the cabinets directly," @Gowthami mentions.
At this point, they added the doors to the cabinets, first sanding, priming, and painting them a slate gray color. To bring the entire bench to the next level, @Gowthami shows us how they added a section for a mini fridge by creating a separate wooden frame and attaching it. They wanted to balance out the look of the fridge visually with the rest of the bench, so they added a taller cabinet to the other side as well. "This worked out great because we can lean back on them," they say.
Next, they used liquid nails to attach plywood to the top of the bench, and then trimmed the base, the top, and the support legs in between using more one-by-twos and one-by-fours.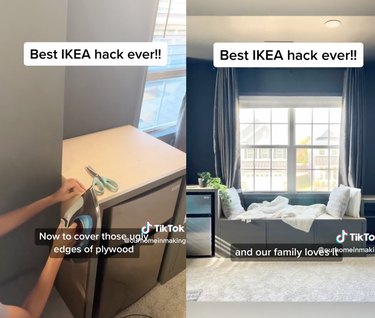 The finished product is a perfectly sized, custom window bench with ample storage. It's always inspiring to see the ways people can take existing furniture pieces and modify them to create something extraordinary.