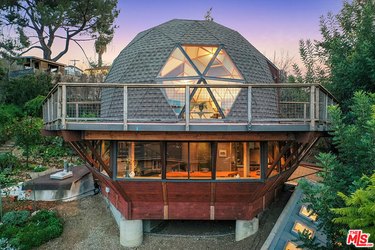 If you've always wanted to live inside your very own kaleidoscope in the sky, your dream home is now for sale. The residence, affectionately named "Domestead," was designed by Los Angeles architect William King and completed in 1982. The home was commissioned by a local doctor before later being sold to artist Fritz Haeg, who used the space to organize community events with other local artists, before selling it in 2015.
Located in Glassell Park, Los Angeles, the 1,787-square-foot home is spread out over three distinct levels. Starting from the base, there's a skylit earth-sheltered lower level. A few steps up brings you into a warm, timber-framed kitchen, and finally, at the top of a spiral staircase, you reach the dome, with its surrounding deck overlooking the L.A. skyline and the San Gabriel Mountains.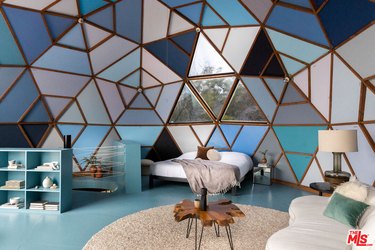 The bubble itself is a 24-foot diameter geodesic dome in shades of bright blue. The brilliant color palette of the hexagonal panels combined with the abundant natural light through the triangular windows creates a jaw-dropping kaleidoscopic effect.
The vast outdoor space is covered with succulents and fruit tree gardens, with pathways scattered throughout. The property features a large heavy-duty canvas arched yurt on a wood platform, an outdoor shower, and a soaking tub.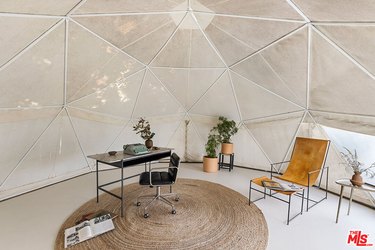 During Haeg's tenure in the home, he performed a series of renovations to highlight the whimsical charm of the space further. Most recently, in 2014, a cedar-paneled bathroom, complete with an old-fashioned clawfoot bathtub, was added. Haeg also incorporated the outdoor shower and wooden soaking tub in the upstairs bath. Plus, a second bedroom acts as a "secret skylit sleeping chamber," and is hidden upstairs, accessible only by entering from behind a painting.
The property is listed for $1,725,000 and, as a bonus, a separate, buildable lot is included in the sale. You have to see this one to believe it.