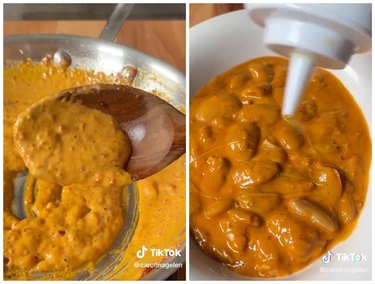 If anything "alla vodka" makes your mouth water, then you're in the right place. There's something about a creamy tomato vodka sauce that just makes an evening meal all the more comforting. However, there are factors that may deter you from a simple penne alla vodka, like maintaining a gluten-free diet, the need for more protein, or maybe you just don't feel like a heavy carb meal. Luckily, TikToker @carolinagelen used an alternative ingredient that truly is a game changer: beans.
The chef starts by crafting their vodka sauce, beginning with sautéing chopped shallots in olive oil. Then, they incorporate a bit of tomato paste, chili flakes, and garlic slices before adding in the heavy cream. If you're looking for a vegan substitute, Gelen recommends coconut milk.
Once the sauce is rich and velvety, the chef adds in a full can of butter beans with some flaky salt. The beans are large, juicy, and hence the name, buttery. After scooping in a spoonful of vodka butter, a genius mixture that will change the way you cook, garnish with a bit of parsley to serve.
"Don't get it twisted," Gelen says in the video. "This dish is not trying to replace your pasta. It's not trying to ‌be‌ pasta. It's just a pasta-inspired bean dish: a refreshing change of scenery, if you will."
If you're in search of a protein-packed pasta alternative that isn't just straight beans, we would suggest opting for a bean pasta like Banza, comprised only of chickpeas. (You won't even be able to tell the difference.) And for a more detailed sauce recipe, you can read the full notes on Gelen's website. The possibilities are truly endless for your next pasta night.