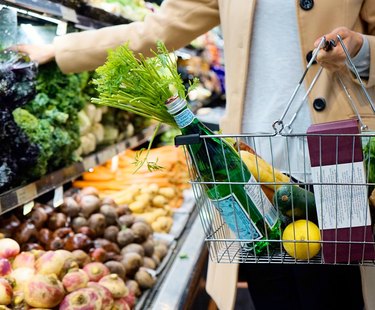 We all have our grocery store of choice. Many of us are partial to Trader Joe's, some of us have a soft spot for Wegmans, and a bunch of us veer towards the beloved Costco. While geography may play a role in where you go shopping, there are a few key food giants that are more trusted by the general population than others. BrandSpark International, a marketing research firm, partnered with ‌Newsweek‌ and ‌Winsight Grocery Business‌ to get to the bottom of it.
The brand surveyed 10,082 Americans and evaluated stores in eight formats from conventional grocery stores to discount shops and organic establishments across four regions and 36 attributes, plus identified the top five grocery retailers across the country.
Unsurprisingly, Walmart ranks number one nationally as the most trusted grocery store, followed by Kroger, Aldi, Costco, and Publix. Aldi took the crown as the most trusted discount store and small format grocery store, while Whole Foods reigned supreme as best organic food retailer.
"As inflation continues to hit grocery categories heavily, conventional stores with strong private label offerings are going to be popular with consumers because they can meet their needs in terms of price and effective options," says Philip Scrutton, vice president of Shopper Insights, BrandSpark International, in a press release. "Even with shoppers' increased focus on prices, quality-driven conventional grocers still rank highly in each region."
Some other notable findings from the study include:
Walmart, Aldi, and H-E-B, are the most trusted for affordability.
H-E-B, ShopRite, and Kroger are the most trusted for fresh produce.
H-E-B is the most trusted for quality fresh food.
Walmart is the most trusted for curbside pickup.
You can check out the full results of the survey here — and you may want to before your next grocery trip.