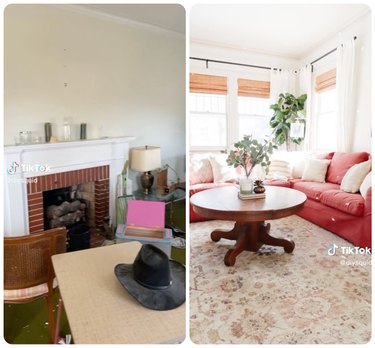 We love a good home renovation, and DIYer Sydney Lorence of DIY Squid has certainly impressed us with the before and after photos of their house project. In a video shared on TikTok, Lorence (@diysquid) chronicles the months-long renovation of a fixer-upper they purchased at a foreclosure auction with their husband in March 2021 — that they completed while pregnant, no less.
The home needed ‌a lot‌ of work — it had sat vacant for more than a year, and when Lorence purchased it, the home was full of abandoned items and trash. So, step number one was emptying the home of anything that couldn't be salvaged. Ultimately, there ended up being five dumpsters worth of trash.
Then, it was time to demo. "The demo is always the most fun to me," said Lorence in the video. "You don't have to worry about how things look and you just get to tear things apart." At the same time, the Lorences had to sell the home they lived in, but since the new home wasn't ready, they moved into a camper they parked on the reno project's lot.
When it came to the rebuild, Lorence basically flipped the home head to toe, starting with texturing and painting the walls. "Somebody had painted over wallpaper before and I did not want to have to peel that off," said Lorence. (Work smarter, not harder.)
Next came all the other projects, from building an addition to installing cabinetry to tiling floors and walls.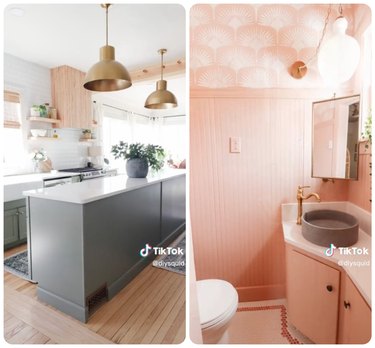 This reno was the fourth home renovation that Lorence and their husband have tackled, so they knew how to handle an overwhelming to-do list. "Renovating a house can definitely be intimidating at first, but I think the main thing is to look at it in chunks and not all at once," said Lorence.
During the process, Lorence gave birth to their daughter, Sutton Jayne, but they kept toiling away at the home even with a newborn in their lives.
The end result is a bright and airy bohemian-style home filled with fun patterns and pastel hues. As these things go, the Lorences didn't get to spend much time in their new home, as they ultimately had to relocate for work.
"Learning new skills and giving a house the love it truly deserves is the most satisfying thing I've ever done in my life," said Lorence. "Besides having a baby, of course."