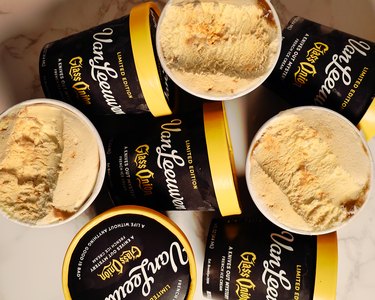 There are a ton of unique ice cream flavors out there, but that hasn't stopped more brands from experimenting in the freezer. Most recently, Van Leeuwen Ice Cream has expanded its flavor horizons by partnering with Netflix based on the new movie ‌Glass Onion: A Knives Out Mystery‌.
The dessert has "as many twists and turns as the movie itself," according to a press release. To pay homage to the film, the vanilla ice cream contains a touch of Greek yogurt and honeycomb candy pieces, before getting topped off with a swirl of bourbon, caramelized onion jam.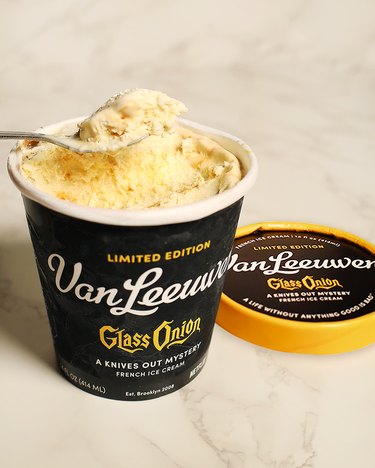 If you're scratching your head at the idea of onion in your ice cream, you're certainly not the only one. However, a few cast members of the film, including Kate Hudson, Madelyn Cline, and Leslie Odom Jr., tasted the new treat in a YouTube video — and they couldn't stop eating it.
The ice cream is available beginning today at New York City and Los Angeles Van Leeuwen locations by the scoop or pint, and also on the Van Leeuwen website for nationwide shipping. If you can grab some now, you'll have it just it time to eat while watching the movie on December 23. Hey, this might be the only onion-flavored food you'll ever have that doesn't make you want to brush your teeth.