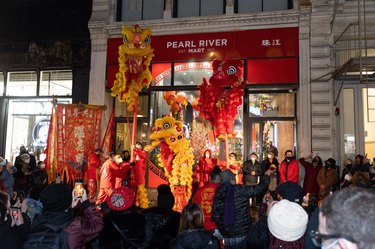 On January 22, millions of people around the world will join with family and friends to celebrate Lunar New Year, the beginning of the lunar calendar, with festivities running for more than two weeks. Though it's sometimes called Chinese New Year, the holiday is celebrated across Asia and around the world by Asian communities. To find out how people are celebrating this year, we asked tastemakers across the home and food industries to share with us their Lunar New Year merrymaking plans and favorite traditions.
1. Cliff Tan, Founder of Dear Modern
If you don't know Cliff Tan by name, you probably know him as "that feng shui guy" on TikTok, the author of ‌Feng Shui Modern‌, or the owner of Dear Modern, a feng shui consultancy. The London-based architect has more than 2.6 million followers on his account (@dearmodern), with whom he shares easy feng shui tips and helps find solutions to awkward room layouts.
"Lunar New Year is like Christmas and New Year's Day all packed into one important event. Shops close, people stop working, and people travel back to their families. This is exactly what I do!" Tan tells Hunker. The architect travels all the way back to Singapore, where he's from, to spend time with family and friends. "When my whole family is together, we will have dinner, aptly called a reunion dinner, followed by 15 days of visiting friends and family and exchanging good wishes."
Tan's favorite tradition happens on the seventh day of celebrations, a day called ‌Renri‌, which serves as a collective birthday for everyone in China. The practice stems from the ancient Chinese belief that the goddess Nuwa created humans on the seventh day.
"To celebrate, we eat seven types of vegetables. Not the most appetizing way to celebrate, but we go around it with a dish called ‌yu sheng‌, which is a kind of salad made of shredded root vegetables and all sorts of spices and toppings, each representing a particular type of fortune," says Tan. "We would then toss it high into the air in celebration. It does get messy, but is a fun way to usher in the new year!"
2 and 3. Vanessa and Kim Pham, Founders of Omsom
Entrepreneurial sisters Vanessa and Kim Pham founded Omsom to bring Asian flavors into the kitchen quickly, easily, and deliciously. Omsom starters are handy pantry shortcuts that bring a variety of authentic Asian sauces to your dishes, without you having to purchase all the individual ingredients and follow a recipe.
As she and Vanessa are first-generation Vietnamese Americans, Kim notes that their Tết (Vietnamese New Year) celebrations differ from those of their relatives in Vietnam. "What I love about Lunar New Year is that there is no one 'right' way to celebrate it in the kitchen — lots of different cultures celebrate it with different dishes and traditions!" Kim tells Hunker.
Kim's favorite Lunar New Year dish is ‌thịt kho trứng,‌ or caramelized Vietnamese pork belly and eggs. "It's a super decadent dish that brings me rushing back to celebrating Tết with my parents," she says. Vanessa's favorite is ‌chả‌, Vietnamese sausage, which is also a dish she likes to eat year round. "My favorite kind is ‌chả lụa‌, a simple yet aromatic kind made with pork, fish sauce, and ground black pepper, wrapped in banana leaves," Vanessa explains. "Such a versatile ingredient, but I find it particularly delicious on savory sticky rice or in a classic ‌bánh mì‌ with pate."
Of course, the new year celebrations aren't ‌only‌ about food. "Most importantly, it's a time of year I get to gamble!" says Kim. "A lot of fun betting games are played, and young Kim loved to bet all her lì xì, or lucky money gifted from older relatives, on these games and make a killing!"
4. Joanne Kwong, President of Pearl River Mart and Pearl River Mart Foods
Since its founding in 1971, Chinese American department store Pearl River Mart has been a veritable institution in New York City, selling a little something for everyone, from decor and kitchen supplies to groceries and toys. Founders Ming Yi and Ching Yeh Chen immigrated to the United States from Taiwan and established Pearl River Mart as a "friendship store." Today, the business is run by the couple's daughter-in-law, Joanne Kwong.
Lunar New Year is a busy holiday for Kwong, both in her personal celebrations and in her business operations. "There's a lot of preparation that happens before Lunar New Year's Day," Kwong tells Hunker. "Doing things like cleaning your house, decorating with oranges and flowers, getting a haircut, purchasing new clothes, and settling debts and feuds are believed to wipe the slate clean from last year and up your good fortune for the coming year. By the time New Year's Day actually arrives, I'm already pretty tired!"
But there's no stopping Kwong at this point. "It is said that what you do on New Year's Day is what you'll be doing all year," she says, "so I always go to work in order to stay gainfully employed, but I try not to work too hard."
Lunar New Year happens to be one of the most significant days of the year for Pearl River Mart, but it's not just about sales. In fact, it's more fun than work. "I'm able to gather with friends and family, watch festive lion dancing that scares off evil spirits, give away red money envelopes to kids — giving away luck increases your own luck — and generally make merriment," says Kwong.
And finally, New Year's Day comes to a close with family time. "I always end the day with a family dinner, complete with all the yummy lucky foods," Kwong reveals. "Whole steamed fish and chicken, symbolizing abundance and prosperity; long noodles for a long life; crispy spring rolls; dumplings that look like gold bars and ingots (a type of currency); delicately fried shrimp, which in Cantonese is pronounced 'ha,' the sound of laughter; and a sweet sticky rice cake called ‌nian gao‌, which translates as 'every year get higher.'"
As for Kwong's favorite Lunar New Year dish, it's her mother-in-law's 10-Veggie Delight. "Including a cleansing vegetable dish in a feast of rich foods is a must for those with roots in southern China," says Kwong. "It's believed that abstaining from meat consumption on the first day of the new year will enhance longevity and that eating a vegetarian dish will help purify the body. In addition, it honors a Buddhist tradition that nothing living should be killed on the first day of the new year."
Kwong also notes that each vegetable in the dish is imbued with special meaning. "For instance, the wood ear and oyster mushrooms are for long life, celery for diligence, water chestnuts for family unity and togetherness, and dried golden lily buds for fortune and money," says Kwong. "A dish that's tasty, lucky, and healthy, all in one!"
5. Sandro Roco, CEO and Founder of Sanzo
Filipino American Sandro Roco is a born-and-raised New Yorker who founded Sanzo, the first Asian-inspired sparkling water company, which features flavors such as lychee and yuzu. (There's also a limited-edition Linsanity drink that's flavored like Asian pear.) Inspired by zeitgeisty moments bringing Asian culture to the foreground, from major Hollywood films to the global dominance of K-pop, Roco wanted to bring Asian flavors to the table — without all the sugar that often comes with them.
"New York City is home to one of the most iconic Chinatowns in the world, and so for me, Lunar New Year is all about being out in the community," Roco tells Hunker. "A few of my favorite places are Nom Wah Tea Parlor for dim sum and Wu's Wonton King for their roast suckling pig."
But Lunar New Year is also about prosperity and paying it forward, so Sanzo isn't only celebrating with his family and friends. "This year, the Sanzo team is super excited to be co-hosting a Lunar New Year dinner with [blended Scotch whiskey brand] Johnnie Walker and fellow AAPI-owned brands like Bowery Showroom to raise money for Welcome to Chinatown, an amazing organization dedicated to supporting the Chinatown neighborhood and community," he says.
The dinner, which will be hosted at iconic Chinatown restaurant Wo Hop, is open to all. Roco concludes, "Lunar New Year is the perfect time to gather and celebrate the coming together of many different backgrounds and heritages."