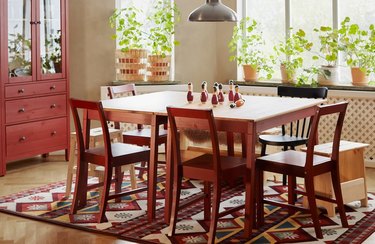 With cool weather just around the corner, many of us are getting ready to turn our homes into cozy abodes. But what will that look like, exactly? It depends on the household, of course — but the pros at IKEA think it will primarily feature a style called "folklore fusion."
According to a recent article by Ideal Home, the forecast is one of IKEA's predictions for the autumn/winter transition. The folklore fusion style essentially combines cozy, folklore-inspired elements with more modern pieces.
Ideal Home also reports that, according to Clotilde Passalacqua, Interior Design Manager at IKEA UK and Ireland, the approach is inspired by all the time people have spent at home in recent years.
"Having spent more time in the same four walls, we are seeing heightened creativity in the way we decorate our spaces. Inspired by memories of carefree days, we're seeing block colors and simple geometric patterns that transport us back to previous decades being favored," said Passalacqua.
More specifically, Passalacqua explains that the winter 2022 style will involve unexpected contrasting color combos like dark reds, mustard yellows, blues, and greens rounded out with neutral whites and creams. Stained wood furniture will also be another element, she notes.
Folklore fusion items for your home:
Loving the concept of folklore fusion? Consider the following items from IKEA, which are perfect for the look:
Needless to say, we can't wait to hunker down (pun intended) and make our homes super cozy this winter.