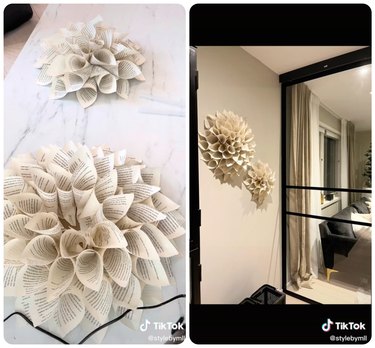 Don't want to spend a fortune on wall decor? TikTok user @stylebymll created a super simple floral wall sculpture that anyone can make at home.
In the viral video demonstrating the technique, they start by tearing out pages from an old book — you could also use any sort of thick paper — and cutting them into squares. Then, they roll those papers up into a small cone with one corner sticking out, before gluing them together.
Next, they make the base of the sculpture by tracing a large serving plate onto a piece of cardboard, then cutting out the circle. The TikToker lines up the cones around the edge of the circle and glues them down, repeating the action over and over until a wreath-like shape forms.
That's it! Simply hang the sculpture on the wall for a crafty addition to your home.
However, commenters weighed in with alternative takes on the project to create different looks. One user suggested spray painting the entire sculpture to suit your design scheme. You could also spray paint individual cones to create a colorful pattern within the sculpture.
Another user went with a holiday take. "Leave [the] center free, glue in some Christmas baubles and battery fairy lights, and you got a Christmas wreath," wrote @moreofamore.
You could even experiment with different base shapes to create alternative styles. The world is truly your oyster with this easy DIY wall art.