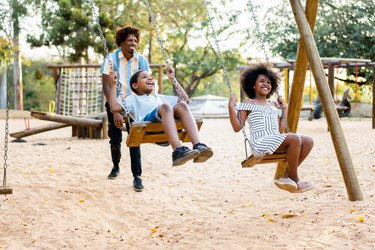 If you have young kids, finding family-friendly activities, restaurants, and spaces beyond your family room can be a constant challenge. What can be even more of a struggle is finding the right house in a neighborhood that suits your family's needs. Luckily, the digital real estate company Opendoor has just done some of the legwork for us, crunching the numbers and data points to identify the top 15 family-friendly cities and towns in America.
Opendoor compiled this list by analyzing and averaging the number of OpenStreetMap "family friendly" tags that are within three miles of all addresses in a city where Opendoor Brokerage operates. These "family friendly" tags include "bench," "community center," "drinking water," "garden," "kindergarten," "museum," "park," "picnic site," "playground," "school," "swimming pool," "supermarket," and "waste basket."
Aside from these specific tags, Opendoor also considered other factors such as the reputation of school districts, access to outdoor spaces, and locations with a small-town feel. Towns and cities on the ensuing list with top marks in the outdoors category are Denver, Colorado; Portland, Oregon; and Ann Arbor, Michigan. Those with that coveted small-town vibe include Arlington, Virginia, and Avondale Estates, Georgia.
Check out the full list below to see the other top spots where families can thrive in the U.S.