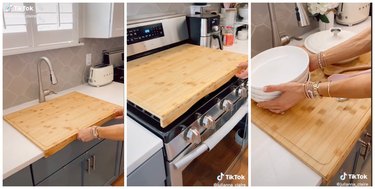 If there's one thing many of us need in the kitchen, it's more counter space. Whether you're renting an apartment with a compact cooking area or saving up for a full-blown kitchen renovation, we discovered a way to make your countertop extension dreams come true.
On TikTok, user Julianna Claire shared an Amazon kitchen hack that will change your cooking game. It's a bamboo work surface that slides over your kitchen sink or stovetop, and can be used as a trivet or serving station. Along with having an extended edge that helps keep the item in place, the board also has legs that can be adjusted to fit perfectly over your stovetop.
Several commenters also mentioned that IKEA sells its own chopping board that can add more counter space: Lämplig, which costs just $24.99.
If you're interested in other handy kitchen tools and hacks, check out the below: