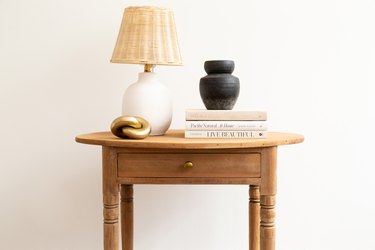 Do you have a favorite thrifted wood table or chair, but you're not crazy about the varnish or stain color? This easy DIY tutorial will teach you how to strip furniture using a household cleaning solution — oven cleaner! It's a simple technique that transforms an old, darker piece of furniture into a bleached, natural look.
Most often when stripping furniture, you have to use a heavy duty varnish remover like CitriStrip. While it does work, it tends to be messy and time consuming. Using oven cleaner is quick and less messy. One thing to note when using oven cleaner as a furniture stripper is that it can dry out the wood. So, if you are restoring a family heirloom, we would ​not​ recommend using this method. Use it on a funky flea market find or a thrift store treasure that could use a gorgeous furniture makeover.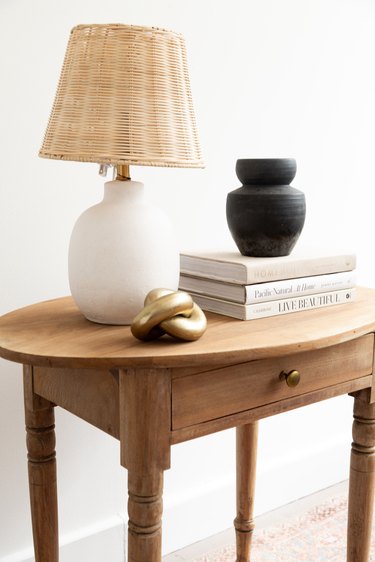 Tip
What kind of furniture can you use oven cleaner on? You need a solid wood piece of furniture. We do not recommend this method on wood veneer. The lighter the natural wood was originally, the better this method method works. Oak is ideal. The darker the wood, the more you'll have a medium color wood finish after the oven cleaner process.
Step 1: Prep Furniture
Wipe down wood furniture with a towel to remove any debris. Remove hardware.
Step 2: Spray Oven Cleaner
Before you begin, be sure to read the safety info on the back of the oven cleaner can. Then, spray a thick bubbly coat of the oven cleaner all over the wood furniture. Allow to sit in the shade for 15 to 20 minutes.
Step 3: Scrub Cleaner Off Using a Scrub Brush
Using a soft bristle brush scrubber, remove the cleaner from the entire piece. Then, dip the brush into a bowl of soapy water and continue to scrub the furniture to release the varnish or old stain.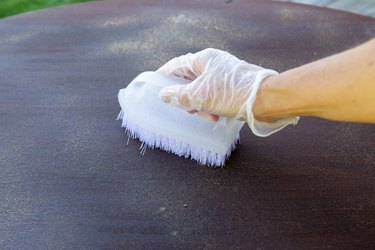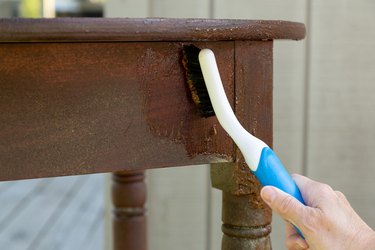 Step 4: Spray With a Hose to Rinse
Rinse the furniture with a hose outside. Be sure to rinse completely until the water is clear.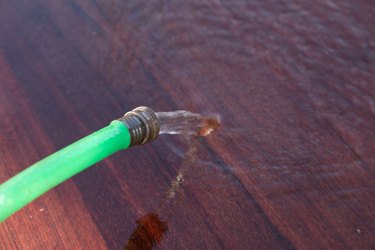 Step 5: Allow the Piece to Dry and Then Sand
Smooth out the wood using 120-grit sand paper on a power hand sander. After sanding, you can seal the furniture with a polyurethane or sealant. Replace the hardware.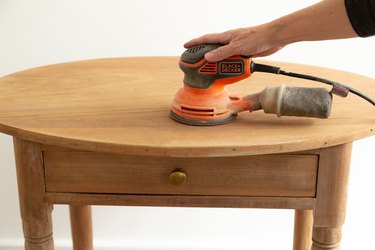 Tip
After applying and scrubbing the oven cleaner, if you were hoping for a lighter wood color to fit in with your home decor, you can do the process again. Note: the more you apply the oven cleaner process the dryer the wood will become.