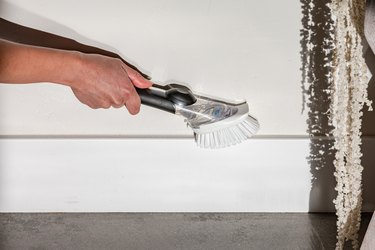 Squeaky is all about the borderline genius hacks and ideas that keep literally every inch of your space pristine.
Baseboard cleaning is one of the most forgotten chores when it comes to home cleaning. They are so close to your floor, so they can get dirty from scuff marks as well as dust and grime that settles on them daily. We often don't notice our dirty baseboards until they get ​really​ grimy, and they can be a real pain to clean. The great news is, there is an easy way to clean baseboards using a kitchen cleaning tool and this DIY homemade cleaning solution.
Things You'll Need
Warm water

Liquid fabric softener (Note: The mixture will leave behind a light fresh, clean laundry smell, so be sure you use a scent you love.)
How to Easily Clean Baseboards
Step 1
Fill your dish cleaning wand 3/4 of the way full with warm water, leaving room for the fabric softener.
Step 2
Fill the dish cleaning wand the rest of the way with liquid fabric softener. The fabric softener will help to loosen any stuck on debris when you are cleaning the baseboards, while also keeping some dust from sticking because the fabric softener reduces static electricity.
Step 3
Replace the lid to the wand scrubber and shake well before each use.
Step 4
Scrub your baseboards lightly in a back and forth motion. It's best to work in 3-foot sections so you can keep from making a mess.
Step 5
Wipe each section clean with a towel or cloth after scrubbing.
Tip
In between deep cleanings of your baseboards, you can remove dust by wiping the baseboards with a used dryer sheet. It's one of the best ways to remove buildup. Using a dryer sheets as a duster alternative is one of our favorite cleaning secrets!