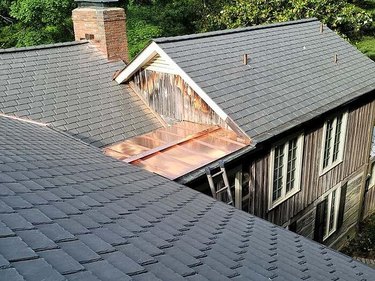 Do you love the look of slate but don't want the expense? Synthetic slate roof shingles are an alternative that gives you a similar look. Since your roof serves many important functions, choosing the right material to cover it requires a mix of aesthetics and functionality. Exploring the specifics of faux slate roofing helps you determine if it's the right option for your home.
Synthetic Slate Shingle Construction
Synthetic slate roof tiles are manufactured to look like real slate roof tiles, but they're made with plastic and rubber instead of natural slate. There are also faux slate roofing systems made of other materials, such as fiber cement, clay, polymer, steel, and asphalt. However, those aren't true composite or synthetic slate roofing materials.
Real slate is found in the ground and cut into roof tiles, so it's not technically manufactured but rather shaped into the finished product. Synthetic slate contains a mix of materials, primarily rubber and plastic, that are formed into shingle shapes. Some synthetic shingles use virgin materials, and some use recycled materials, typically post-industrial materials rather than post-consumer recycled materials.
The process starts with metal forms that are made by creating casts of real slate shingles to capture realistic texture and shaping in the synthetic tiles. The shingles are injection-molded into the metal forms to create realistic-looking synthetic slate shingles. Some companies that offer these shingles include DaVinci Roofscapes, Certainteed, Ecostar, and F-Wave.
Styles of Synthetic Slate
Like real slate, synthetic slate comes in a variety of styles. You can typically find a range of color options similar to natural slate, including black, gray, red, green, brown, and purple. Mottled tiles have a mix of colors. Since synthetic slate is manufactured and not taken from the ground, manufacturers have more flexibility in the styles and colors they can offer.
Many of the synthetic slate options come in different shapes beyond traditional rectangles to give you more choices. You can also change the look by incorporating multiple colors, either in a planned pattern or scattered randomly around the roof for variation.
Compared to real slate roofing, synthetic slate is a more affordable option. The average synthetic slate roof cost usually starts around $10 to $12 per square foot and goes up to $20 or more including materials and labor costs. For a 2,000-square-foot roof, you can expect to pay between $20,000 and $40,000. That can mean significant savings compared to the $15 to $30 or more per square foot for natural slate. Usually, about half of the cost goes toward the labor, and the other half goes toward the materials.
Faux slate generally falls in the middle of the price range when comparing all roofing materials. The installation cost is more than asphalt shingles, which are usually around $3 to $6 per square foot, but it's similar in price to wood shingles and some types of metal roofs. Keep in mind that higher-end artificial slate can be similar in price to lower-end natural slate, but you might save money on installation since you shouldn't need structural reinforcement.
Some factors can increase the cost of the project, usually due to the complexity. Some of those things include:
​Roof pitch:​ A steep roof pitch can increase the complexity and can require more safety precautions for roofers, which can bump up the price.

​Roof tear-off:​ You can expect to pay between $2 and $5 per square foot if you want the roofers to tear off your old roofing. Disposal fees are typically extra.

​Roof height:​ You'll likely pay more for a home that's more than one story high because of the added risk for the roofers.

​Roof features:​ The complexity of your roofline is another potential factor in the pricing. A simple gable roof with two large sides is much easier to cover than an intricate design with lots of peaks and valleys. The roofing contractor has to cut more pieces and worry about more joints where leaking can occur.

​Size:​ The overall size of the roof affects how much material you need and how long the job will take, which can increase the cost significantly. A sprawling ranch will have a lot more roof area than a small, two-story home.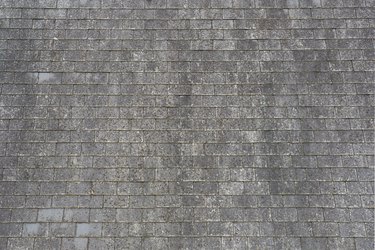 Life Span of Synthetic Slate Roofing
Longevity is an important consideration when choosing materials for a roofing project. The life span of faux slate roofing is usually 40 to 50 years, but some products claim to last longer. It's not as long-lasting as real slate, which can hold up for 100 years or more, but it should last longer than asphalt shingles, which usually last 20 to 30 years.
Homeowners should also compare the warranty length and coverage for different manufacturers. Roofing typically has a manufacturer's warranty to cover the material and a warranty from your roofing contractor to cover the workmanship. Each part of the warranty can be for different lengths. Some artificial slate roofs have limited lifetime warranties or warranties that last up to 50 years. However, some roofing warranties don't transfer with the sale of a home or will only transfer one time, so clarify the terms of the warranty.
Roofing Storm and Fire Resistance
Synthetic roof tiles can vary in their impact resistance, which helps determine how well they'll stand up to weather elements, like hail. Many have the highest certification from Underwriters Laboratories, which is Class 4 impact resistance. However, any roofing can sustain damage in extreme weather with large hail, tornadoes, or extremely high winds.
While it can't stop fire hazards inside your home, synthetic slate roofing often offers high fire resistance if a spark or ember lands on your roof. Many options offer a Class A fire rating, which is the highest rating that roofing can have. It means that the roofing isn't readily flammable and doesn't spread fire. Review the specs of the roofing you're considering, as some synthetic roofs are rated Class B or C, which doesn't offer as much fire resistance.
Roofing Installation Considerations
While synthetic slate is more forgiving and easier to install than real slate roofing, it's still a good idea to hire an experienced roofer to handle the installation. Synthetic slate roof materials are easier to transport to the roof because of the lighter weight, and they're more forgiving when it comes to cutting and nailing the shingles, making artificial slate roof installation easier.
Pros and Cons of Synthetic Slate
This type of roof offers many advantages, especially compared to natural slate, but there are also some disadvantages to consider. Looking at both sides helps you decide if you're willing to deal with the cons to take advantage of the pros.
Some pros of choosing synthetic slate roof tiles include:
​Eco-friendly:​ Synthetic slate types are often made from recycled materials. Even if yours are made from virgin materials, they can be recycled when you take them off your home to keep them out of landfills. Roofing manufacturers can break down the synthetic tiles after they're removed and turn them into new roofing.

​Lighter:​ Compared to authentic slate, synthetic slate roof shingles are lighter, usually about a quarter of the weight of real slate. This means your existing roof system can likely support the synthetic slate roof tiles. Real slate tiles often require reinforcement because of the excessive weight.

​Easier installation:​ The roof installation process for artificial slate shingles is easier than with real slate. You'll likely find more roofers with experience in faux slate than real slate since it's a more forgiving and easier-to-install material.

​Resistance to cracking:​ Real slate can crack easily if you walk on it or if something hits it. Synthetic slate tends to resist cracking better than real slate because of its flexibility. You can walk on many types of synthetic slate, although it's important to check with your roofing contractor to determine the proper care and maintenance for the roofing.
Looking at the cons of using synthetic slate for a new roof helps you consider the home improvement decision from all angles. Some disadvantages include:
​Not completely accurate:​ While many faux slate tiles are a good replica, they never quite look like the real thing. If you're craving natural slate tiles, you might be disappointed with the look of faux slate roofing products. Work with your roofing contractor to choose a synthetic product that looks as close to the real thing as possible.

​Potential for fading:​ Some faux slate products fade in the sunlight. Real slate doesn't typically fade, but it might change in color due to weathering. Read reviews on the products you're considering to find one that holds up well under intense UV rays.

​Newer technology:​ Unlike real slate, asphalt, wood, metal, and other roofing materials, artificial slate hasn't been around very long. While manufacturers can predict their product will last 50 years or more, it's impossible to know for sure how long it will last and how well it will weather over the years. If the shingles have a warranty, the company should take care of the issues, so look for a synthetic product with a 50-year warranty for the best coverage. However, the warranties don't always transfer. If you buy a house with synthetic slate, you might not have coverage if this issue occurs.

​Varying degrees of protection:​ All real slate is Class A fire-resistant, but artificial slate can vary based on how it's made. The impact resistance can also vary. Review the details of each product thoroughly to find one with the highest level of protection.