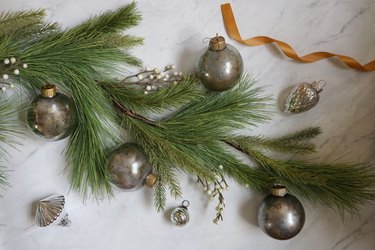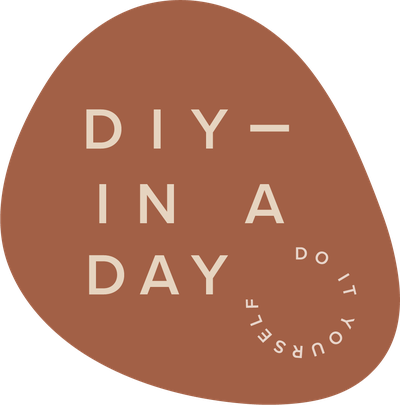 DIY in a Day brings you step-by-step instructions for easy projects that will spruce up your space — within 24 hours (or less!).
Mercury glass ornaments lend a lovely vintage look to your holiday tree. Originally, they were made from silvered, double-walled glass, and come in all sorts of shapes and sizes. But authentic mercury glass baubles tend to be quite pricey. You can easily give clear (and very budget-friendly) ornaments a similar look using mirror spray paint — and even better — you can make lots of them to either keep or give as gifts. Their timeless beauty will add both shimmer and sparkle to your tree without the expense!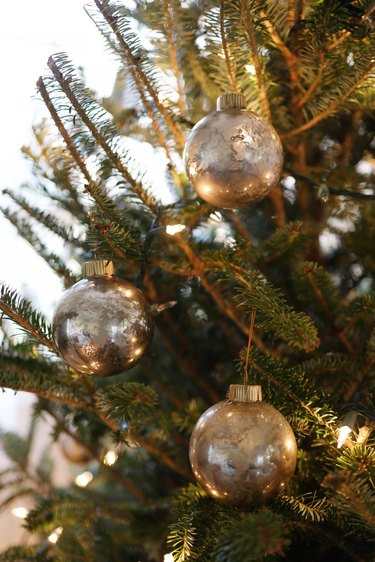 Things You'll Need
Tip
*Though there are other brands of mirror paint out there, this is the only one that will yield the most realistic results of faux mercury glass.
Step 1
Gently remove the top of the ornament and set aside. Place the nozzle of the Looking Glass spray paint directly into the opening of the ornament. Spray three short bursts of paint inside the ornament, and immediately start rotating the ornament in your hand. The goal is to coat the inside of the ornament as evenly as possible with a thin layer of paint.
Step 2
Place a paper towel or cloth over the opening of the ornament, and gently shake it to remove any excess paint.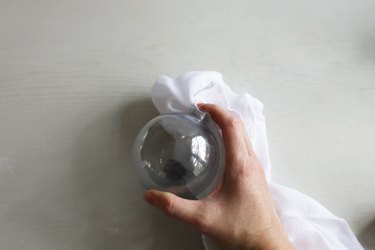 Step 3
Set the hair dryer to the warm (not hot) setting, and blow air into the ornament for about 30 seconds. You'll notice the paint will take on a mirror effect as it dries.
Step 4
Add 1/3 cup of white vinegar to an empty spray bottle. Set the nozzle to a fine mist (if it has one). Spray three to four spritzes of vinegar into the ornament.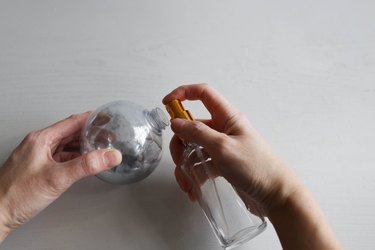 Step 5
Gently shake the ornament to distribute droplets of vinegar around the ornament. Let the vinegar sit for about 30 seconds. It'll start to take up some of the paint and create a mottled look.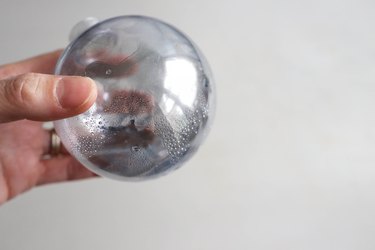 Step 6
Place a paper towel or cloth over the opening and gently shake out any excess vinegar, and then blow into the ornament with a hair dryer for 30 seconds or so.
Step 7
Repeat the steps above at least ​three or four times​ to achieve a realistic mercury glass effect.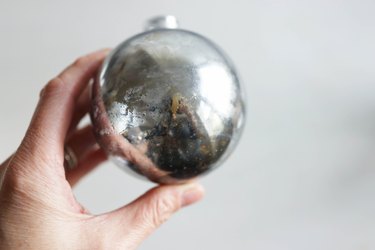 Step 8
To add a more antique, oxidized look, add a final layer of brass, gold, or bronze paint inside the ornament, following the same steps above (paint>hair dryer>vinegar>hair dryer).
Add the tops back to your ornaments, and hang them up on your tree!