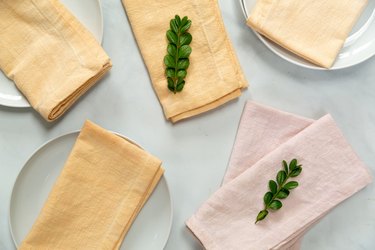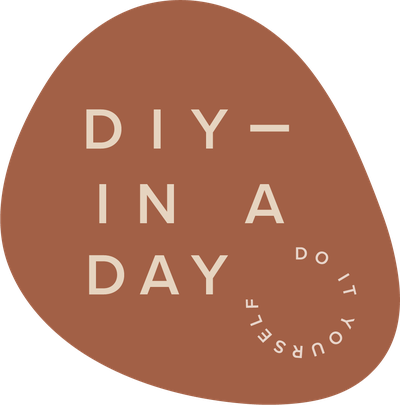 DIY in a Day brings you step-by-step instructions for easy projects that will spruce up your space — within 24 hours (or less!).
There is something so magical about using natural ingredients to create colorful fabrics. Yellow onion peels give white cotton fabric a yellow hue with hints of orange. Avocado pits (with a few peels) give the fabric a pretty pink color.
You will want to use 100% cotton fabric because it accepts the natural dye. (Synthetic fabric will not take the natural dye.) Before you dye the fabric, you have to prepare the material to take the color using vinegar. Read more for all the details!
Things You'll Need
Avocados

Yellow onions

Water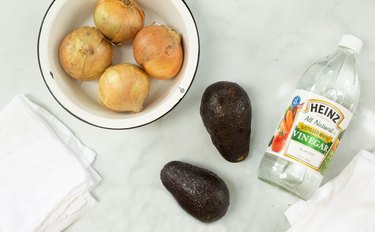 How to Dye Fabric Using Onions
Step 1
It is important to wash the 100% cotton napkins in a mild detergent first. This will strip anything out of the fabric to accept the dye. Keep damp — no need to dry. Place the wet napkins in a vinegar and water solution. Use one cup of white vinegar to three cups of water (add more vinegar and water to completely submerge fabric). Bring to a boil. Add the fabric and boil for one hour. Remove the fabric and rinse with cool water.
Step 2
First prep the yellow onion dye by peeling the onions. You will be using the peels to make the dye.
Step 3
Pour water into the pot. Use a 1:2 ratio (peels to water) for the dye bath. For this tutorial, we used three cups of peels with six cups of water. You will need enough dye bath to submerge the fabric into the water. Bring to a boil, and then turn to low and simmer for an hour. Remove the peels from the water.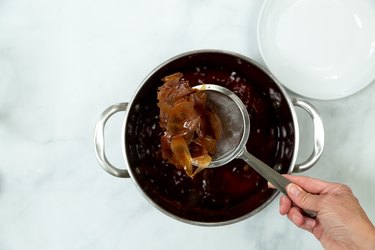 Step 4
Make sure the fabric is fully submerged into the dye bath. Let sit in the dye for an hour at the minimum. The longer you keep the fabric in the dye bath, the more color you will get.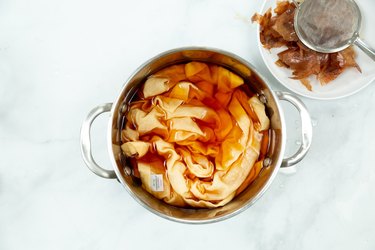 Step 5
Rinse in cool water and dry to set dye.
How to Dye Fabric Using Avocados
Step 1
Use both the avocado pits and peels to make the dye. We used five pits and two peels for this tutorial. Gently wash the pits and peels, removing any of the avocado "meat." Add the pits and peels to a pot of water (enough water to submerge the fabric). Bring to a low boil and then simmer for an hour. The water will turn pink. The more pits you use, the deeper the color.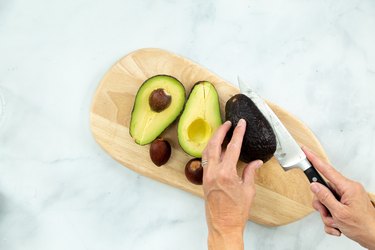 Step 2
Add the fabric to the pot and let simmer in the dye bath for a few hours, up to overnight. We let the cloth napkins seep overnight.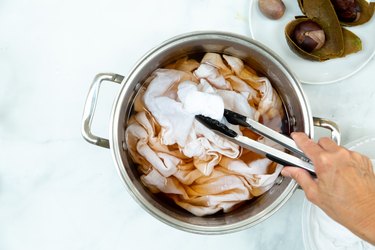 Step 3
Remove the fabric from the dye and rinse on cool water. Allow to dry to set color.