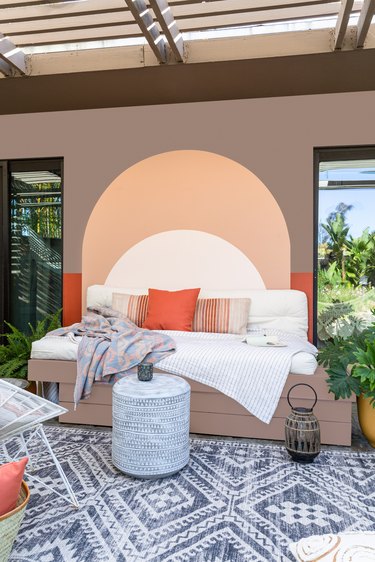 Sometimes, even devoted design lovers have blind spots when it comes to their homes. Hunker's editor-in-chief, Eve Epstein, prides herself on her space — and her ability to make the most of it. But it was only recently that she took a good look at the neglected outdoor daybed on her back patio and saw the opportunity to create the perfect gathering spot.
A makeover was clearly in order, so we teamed up with ​Behr® Paint​ to turn this underused spot into a welcoming conversation area — perfect for Eve's sister's upcoming baby shower. The key inspiration behind the transformation? Color, of course. For that, we looked no further than the ​Behr​ Color Trends 2021 Palette, which inspired us to go beyond a monochromatic scheme. We grabbed an of-the-moment palette of earthy, warm hues that referenced Southern California's beaches (Seaside Villa), canyons (Canyon Dusk), and desert (Kalahari Sunset) — and set out to create a simple mural.
Step 1: Assessing and Prepping the Scene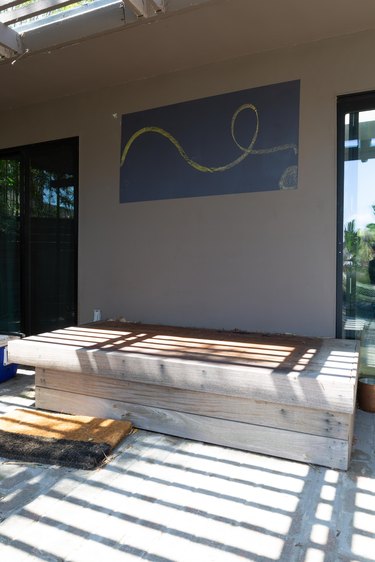 The original spot was hardly welcoming. The daybed platform had come with the house, but Eve and her partner had never given it much attention. Before we could get started, we needed to sweep and clean the surfaces we'd be painting, making sure they were free of dirt, leaves, cobwebs, and other signs of neglect. Once that was done, the fun began.
Step 2: Designing the Mural and Taping it Off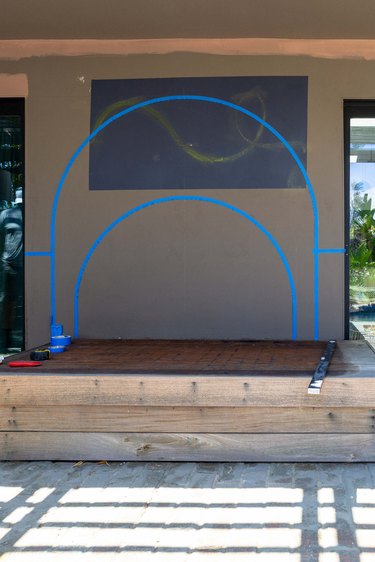 For the mural, Eve had sketched out an abstract, sunset-inspired design. We first drew it on the wall, then taped off the diagram's sections to prepare to paint.
Tip
While you can buy special, stretchy painter's tape to handle a curved design like Eve's, we found it pretty easy to use regular painter's tape for this — it just took a little patience and finessing.
Step 3: Painting, Re-taping, Painting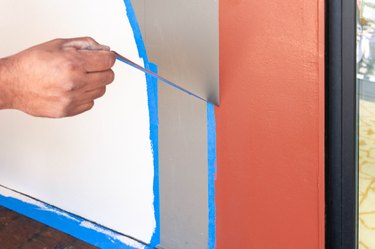 While it sounds tedious, the process was surprisingly fast and easy thanks to ​Behr Ultra​® Exterior Paint, which goes on beautifully with fewer coats while providing excellent durability and resistance to stains and mildew. In fact, we finished the entire project in a single afternoon. When we stepped back to assess our work, we were amazed by the transformation!
Tip
A high-quality paint calls for high-quality tools. Opt for rollers that don't shed, and before using, lightly press painter's tape onto the roller to collect any loose lint. Once you've started painting, stir ​Behr Ultra​ Exterior Paint occasionally throughout your project to ensure the color and sheen stay uniform.
Even better news: The hard work will last — the ​Behr Ultra​ Exterior Paint protects itself from the sun, moisture and other outdoor elements. And while it's not necessary in California in spring, you can apply the paint in temps as cold as 35 degrees Fahrenheit.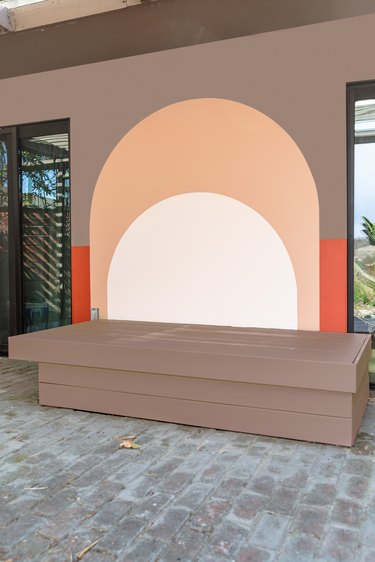 Step 4: Design and Style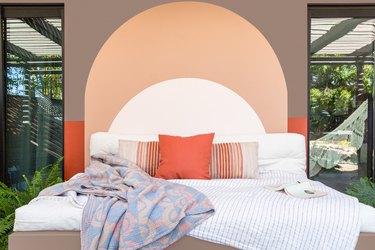 All that was left was to style the daybed — and the space around it — to make it guest-ready. First, we added a full-size futon, which allowed us to create a "back" against the wall. To reinforce the palette of the mural, we added layers of textiles and pillows in complementary oranges and neutral tones.
Tip
If you're using a regular indoor mattress or futon, get yourself a waterproof encasement to protect it from dirt, moisture, and other wear-and-tear.
We then added an outdoor rug to help define the space, adding additional seating, plants, and other decor.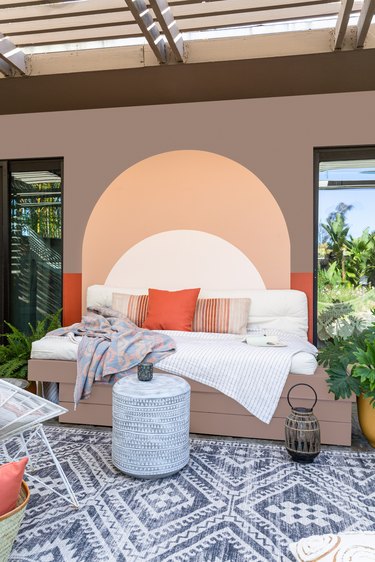 Eve is thrilled with the transformation and plans to unveil it at the baby shower. Until then, it's getting plenty of use as her favorite new outdoor work-from-home space — and her pup, Oscar, seems to approve too.