So, you've mastered the fine art of fiddle leaf fig tree care. First of all, congratulations because that's not always an easy feat. Now it's time to start thinking about the future, and how to make your tree grow in new directions so that its leaves don't get stuck at the ceiling. Here's how to train your fiddle leaf fig to grow fuller and more evenly using floral tape and fishing line.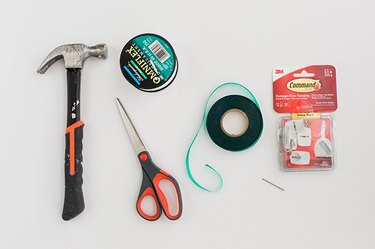 Step 1
Cut a small section of floral tape off the roll, about eight to 10 inches in length.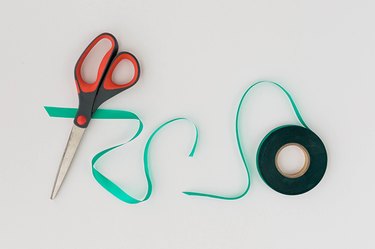 Step 2
Loop the cut floral tape over the center point of an unruly branch, and tie a knot in the end. Leave the loop loose with plenty of space between the knot and the tree branch. Trim off the excess tape using scissors.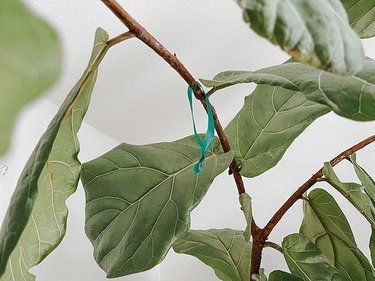 Step 3
Tie one end of a long cut length of fishing line to the loop. Note that you'll want to cut the fishing line longer than you think you'll need to allow for lots of room to move in the following step.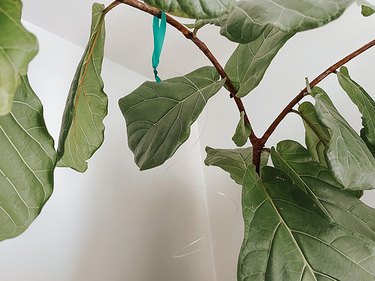 Step 4
Pull the fishing line tight against the wall so that the branch is pulled forward. Adjust your spot on the wall until the branch is situated in a place that looks best. Hold your finger there on the wall, and mark the spot with a pencil.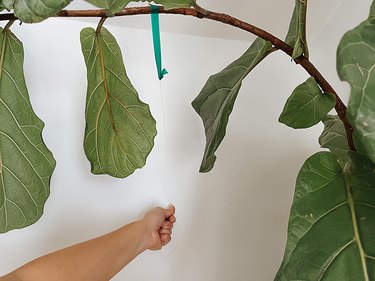 Step 5
Release the fishing line, then attach your hook or tap a nail into the wall at that marked spot. Gently pull the fishing line that is attached to the tree branch back down to the nail or hook you just put in place, and knot the fishing line around the nail or hook. Trim off the excess fishing line using scissors.
The reason why we suggest using a combination of floral tape and fishing line is because fishing line alone will cut into — and strangle — your tree branch (Trust us! This happened before we started using this updated method.). The floral tape is much softer and stretchier, so it won't hurt your tree. The floral tape is also much wider, so there's no chance of it biting into the branch. Also, since the floral tape is green it blends into the leaves, while the clear fishing line is invisible once you stretch it between the floral tape and hook or nail on the wall.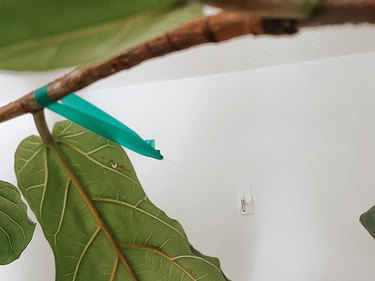 Step 6
Repeat the steps until your tree branches are pulled down in a more even and full formation. Note that you can also tie your fishing line to any with hanging nails use with your existing art pieces to make them blend in even more seamlessly, as pictured below.
Keep in mind that the branches will continue growing upward since that's how they naturally mature, so you'll need to keep this practice up in order to continue training your tree to grow in the right directions for your space.