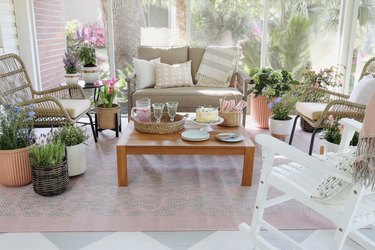 After a long winter (and TBH an entire year of being cooped up), we're leaning hard into the #cottagecore trend to create an idyllic space for relaxing. Our strategy? Pair a sophisticated palette of pastels with neutral tones and organic textures to create a soft and dreamy vibe. Add to that a DIY potted cottage garden featuring colorful spring blooms, and you have yourself a slice of the English countryside right outside your door.
We picked everything up at Walmart, from furniture and accessories to plants and planters, and we're sharing all of our best tips for perking up your patio with soft pastels and cottage charm. Now tell us — how do you take your tea?
Ground the Space With Neutral Tones and Textures
Give cottagecore's signature pastels a clean and airy backdrop with neutral-toned furniture and woven textures. We love mixing and matching different patio pieces to create a collected-over-time look.
Pick Your Palette of Pastel Colors
With their pale but playful pigments, pastels have the ability to instantly brighten a space with a certain amount of whimsy and romance from peach to periwinkle, mint to mauve. Aim for a palette of three to four colors max, and weave them into the space through a variety of accessories.
Create a Colorful Potted Cottage Garden
Even if you don't have a ton of yard space to create an in-ground garden, you can easily create a plant paradise right on your patio by grouping a collection of planters together and filling them with cottage-style florals.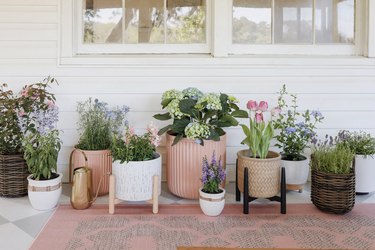 Prior to planting your flowers, place the planters in their desired location and set the flowers inside, so you can decide on an arrangement first. Then fill the pots 2/3 full with potting mix, dig a well, and plant. Water daily for the first week, and then switch to watering whenever the top few inches of soil feel dry. Feed with a liquid fertilizer twice a month. Pro tip: place drip trays underneath planters when watering to catch any runoff.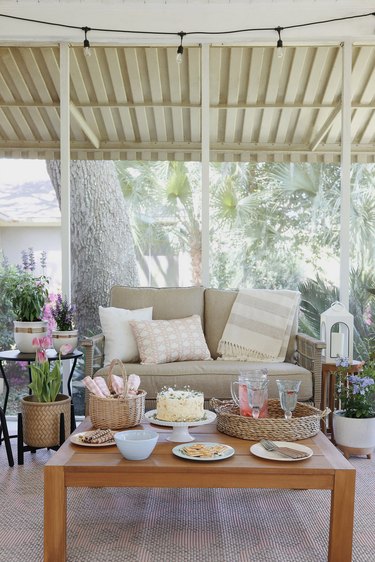 Serve Snacks in (Cottagecore) Style
Keep the colorful pastel theme going for snack time with an assortment of outdoor-friendly serving dishes. Think: cookies and biscuits artfully arranged on candy-colored melamine dishes and iced tea or lemonade served in green-hued goblet glasses.
That's all there is to creating an enchanting color-filled cottage escape in your own backyard with our favorite finds from Walmart. Happy spring!
​​​Need more inspo and tools for refreshing your space for spring? Click here to get everything you need from Walmart.​​