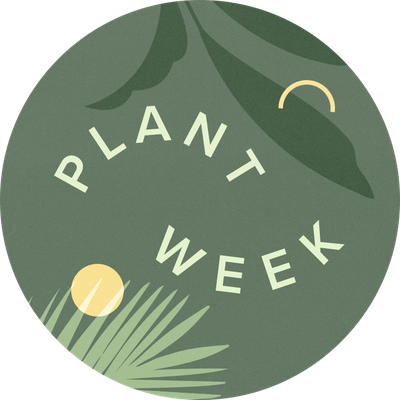 Welcome to Plant Week: Our guide to all things indoor plants, including tips for beginners, advice on care, and tons of plant-spo.
For many, the idea of growing your own herbs is a pipe dream. Sure, the thought of having fresh herbs at the ready is exciting, but the reality of keeping them watered, fed, properly lit, and overall healthy is enough to nip that dream in the bud. However, I recently discovered the magic of the Aerogarden Harvest — and it is seriously a game changer.
This little indoor garden is compact (only 10.5 inches by 7.5 inches) so it fits easily on a countertop and requires a power source to function. This specific model can fit six pods for growing — and you can handpick a free seed kit with your first order — and includes a self-watering system, an automatic LED grow light built into the hood, an adjustable lid that can be raised up to 12 inches as your garden grows, and liquid plant food for extra nutrients. The grow light hood contains "20 watts of white, red and blue LED lights, giving your plants the full spectrum of sunlight they need to grow" and the system also features three buttons at the front that alert you when the system needs more water or plant food.
This model comes in three different colors — white, black, and sage green — and costs $149.95 (but is currently on sale for $99.95 if you use the code ​FRESH20​). There are also a ton of other models on the Aerogarden site that range from three pods to 24 and can house an entire tomato plant for green thumbs of all levels.
The Aerogarden can literally be set up in minutes and is so easy to use. I have a notoriously black thumb and have gotten to the point where I don't even want to attempt to grow live plants and herbs, but this unit truly couldn't be easier. I got the Gourmet Herbs Seed Kit to start, which includes Genovese Basil, Curly Parsley, Dill, Thyme, Thai Basil, and Mint, and all I had to do was pop them into each pod, add water up to the fill line and a few drops of plant food, and turn it on. You're also instructed to add clear grow domes on top of each pod when you first plant them, but they are removed once the herb or plant has begun to grow. The light runs for 15 hours a day and you can schedule that for whenever you'd like, and every so often the water will dispense and you'll hear the little trickling of the system watering the herbs — the sound is akin to a babbling brook, so it's very quiet and pleasant.
Each pod lists out the average sprouting time, ranging from five to 10 days to 14 to 21 days. As of the publishing date, my garden has been up and running for two weeks and I already have significant growth from four of the six herbs and notice new growth each day. I haven't been able to use any of the herbs yet, but I eagerly await that day!
So far, the only con I have experienced is the LED grow light — it is ​so bright​. And, since it has to be on 15 hours of the day, I find that slightly inconvenient and am not sure if I've landed on the best schedule yet. Of course, this problem is amplified by the fact that I: a) live in an apartment that isn't huge, so I can't really tuck it away in a space that's hidden from plain sight; and b) work from home now, so I always see it. Because my kitchen and living room are attached, I don't like it to be on at night while I'm relaxing on the couch since it sets off quite a fluorescent glow, so my current schedule is from around 11 p.m. to 2 p.m. Jury's still out on whether or not I'll leave it like that, but that's definitely something to keep in mind.
Since my herbs are still so new, it's hard to say if I'll have any other issues, but a few years ago, I actually got my mom this same Aerogarden Harvest for Christmas, along with the heirloom cherry tomato seed kit. While it was equally easy to set up and produced a ton of cherry tomatoes quickly, another thing we noticed is that it's easy for the plant to grow quite large and can get out of control. Aerogarden does instruct users to be unafraid of pruning and trimming the plant as it grows, but that's another thing you'll want to keep in mind if you go the veggie route.
Overall, I can't speak highly enough about my experience with Aerogarden Harvest so far. It's perfect for anyone who loves to cook and appreciates fresh herbs but doesn't quite have the skill set to keep a garden alive on their own. And, with the current $50 off with code ​FRESH20​, it's a great time to score a good deal on a really cool product.
---
Katie is a Los Angeles-based writer who covers shopping trends, deals, and product reviews for Hunker. She's written for PureWow, Food Network, and Well+Good. When not online shopping, you can find her collecting vintage glassware or rewatching Nancy Meyers' movies for design inspo.