Picture this: It's 65 degrees on a Saturday, and you're at the park eating food with your friends on a quilt. (Yes, we all share the same daydreams these days.)
Gather your fam or pod for a backyard or beachside picnic, but not just any picnic — one that emulates the same spent-all-day-outside laughing energy of warm days past, and that calls on the right set-up and sips.
Enter Bombay Sapphire's new ready-to-drink Gin & Tonic cans, which are super refreshing and balanced so you can get to cracking, sipping, and enjoying no matter where you are. Choose from either Bombay & Tonic or Bombay & Light (both deliver the same delicious taste as the real thing, but Light contains only 90 calories and less than a gram of sugar).
As for the rest of your dreamy outdoor tablescape? All it takes is a few simple decor additions (some you already have on-hand), for this idyllic picnic scene to become your reality. Because honestly, everything is better when the right vibes are present.
Nothing feels more like 3 p.m. at the park than these warm, sunset-like neutrals — so bring in your softest throws and pillows for max lounging. (Because everyone knows the biggest buzzkill at any picnic is getting the tree stump seat.)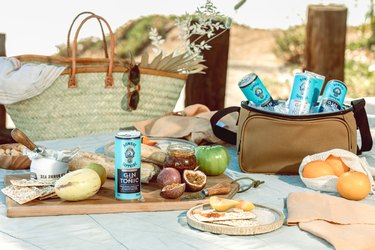 It's not the real-deal unless the apps are being passed. Lean into the natural tones by going with a wooden cutting board to arrange your cheese, crackers, and fruits in the most Instagrammable manner. Pro tip: Don't skimp on the napkins (cloth works too, and will accent your throws!), and always bring resealable bags so the feasting can continue, even when the sun sets.
Add more texture and color to your tablescape with some rustic florals or branches and a woven beach tote to stow your speaker, snacks, and games. (The neutral backdrop creates a great opportunity for your vibrant G&T cans to pop, just saying.) Now all you have to do is eat, drink, and have a good time.