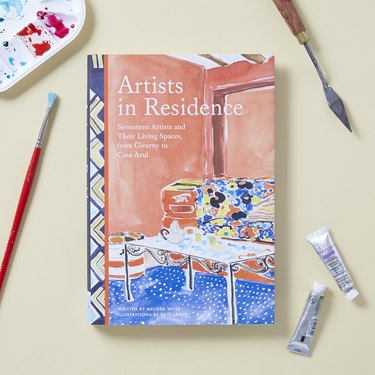 We're no strangers to the thrill of peeking into the home of an artist or designer we admire. Something about seeing where the magic happens, or even just how they imagine everyday spaces, is its own source of inspiration.
"Some of the artists in this book used their homes as places where they explored materials, staged still lifes ... others experienced their homes as sites of divergence, places where they stepped away from the hallmarks of their artistic work," Wyse writes in the book's introduction.
Wyse and Lewis met at a residency and, over time, realized they both had a fascination with artists' homes.
"I devoured books, videos, and images to be able to represent the living spaces best," Lewis tells Hunker. "When available, I watched videos and documentaries of the artists in their homes ... with Louise Bourgeois, there is a Centre Georges Pompidou film about her that I watched many times to understand better how she sat at her desk and to study her gorgeous yellow doors from all angles."
Kate's illustrations aren't about reproducing everything to a T — they're about capturing "some greater essence of how it feels" to step into the space, as Wyse writes. The writing and illustration in the book also point out the details that make them feel lived-in. For example, Bourgeois' kitchen has "scribbled phone numbers written above the mantel" that resemble "an artist's mark-making, and a rejection of decor."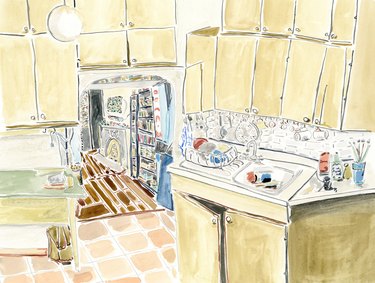 Readers can, of course, glean some design inspiration along the way, too — especially when it comes to how these elements fed the artists' practice.
Monet, for example, "sourced the tiles from Rouen" for his kitchen. They echoed his aesthetic because of the way "the tiles hold the artisanship of the Rouen tilemakers and the organic shapes and brushstrokes of the Normandy region where Monet lived," Wyse writes.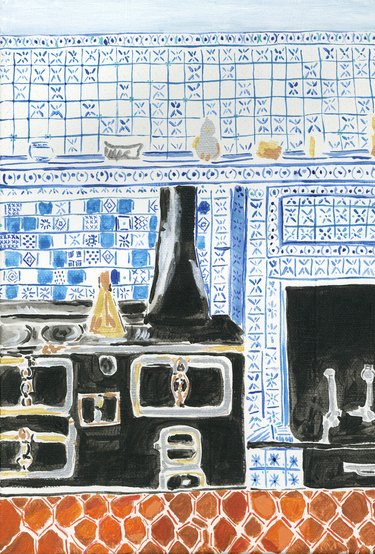 Artist Hassan Hajjaj's home shows how we might use our living spaces as a means to get creative. Wyse writes that he "made seating from repurposed rectangular red plastic crates and cylindrical plastic buckets, each topped with custom cushions in a range of prints and patterns."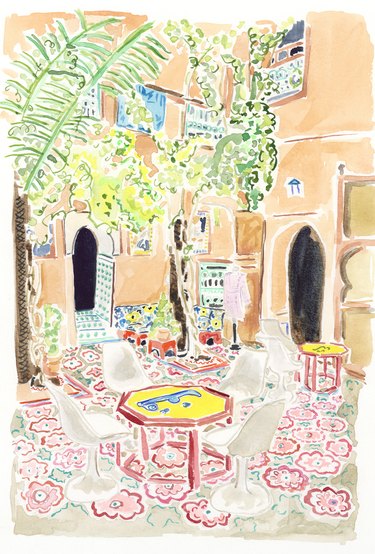 Lewis' own space has evolved over time, as her family grew and she began to work more on the book.
"For eight years, that top floor of our Chicago house was 80% playroom/20% studio," Lewis tells Hunker. "It was a special time when my children were young and would play alongside me while I painted. Their play fueled me, and I like to think that my creative output also influenced their play."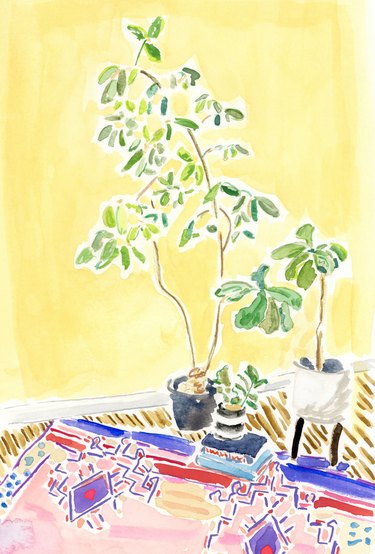 In the end, the book encourages us to consider how our own spaces might influence our sense of play, color, and connection with others — even in the smallest ways.