In recent years, there's been an explosion of direct-to-consumer cookware, much of which is non-toxic. This is great — it's really gotten us thinking about the materials we use when we cook, and what they mean for our health. I started obsessing about this as January (and New Year's resolutions) approached. For years, my husband and I have been doing most of our cooking in a large pan purchased at Costco — with some scary, god-knows-what's-in-it coating that had become scratched and even rusty in places.
But when researching non-toxic cookware, I came up against a roadblock. Many of these DTC/non-toxic brands, while beautiful, do not offer pieces that accommodate large meals. Meaning, the diameter of these pans is usually on the smaller side. Despite being a small family (it's just me, my husband, and the cat), I'm used to a large pan. Especially in these work-from-home pandemic times, I like to make extra portions so we have lunch the next day. Plus, when you're working in a smaller pan, you're just more likely to crowd your food, resulting in steaming rather than browning in certain cases.
So, what makes this pan so safe? It's in the diamond-infused ceramic coating (which is made from sand). This type of coating is non-toxic and doesn't blister or peel, and is also more durable and conductive than other types of non-toxic pans. The pan feels incredibly sturdy (without being too heavy to handle with one hand), and the metal handle stays cool to the touch. The included glass lid is also so convenient — whether you want to use it as a splash guard or to lock in moisture to cook your food through. As a bonus, it's oven- and broiler-safe, so you can basically make any type of meal in it.
My husband (the cleaner-upper between us) is also in love with this pan because it's ridiculously easy to clean — browned bits easily wipe off with a paper towel or sponge, no hard scrubbing required!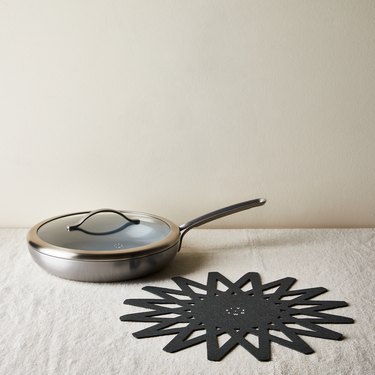 I will say, cooking with this new pan did require a bit of an adjustment period. It heats up faster than my old pan, and (I'm guessing) because it's so conductive, it's very efficient at delivering heat, which means that my food browns faster than I'm ordinarily used to. That's no longer an issue — I just need to cook things on a slightly lower flame, or pay a bit more attention to what's going on in the pan. That said, I'm willing to trade that for the relief in knowing that I'm not releasing toxins into my food.