Nearly a year into the ongoing global pandemic, the meaning of "home" has shifted and changed. For artists and creatives alike, it has also influenced the work they create.
"As we spend more time in our homes, the idle mind wanders; reality blurs into a dream and the ordinary becomes everything but expected," Cornelius Tulloch, of The Black Artists + Designers Guild (BADG), tells Hunker. "Day after day, I see spaces performing in ways that they previously hadn't."
Tulloch, the Miami-based interdisciplinary artist and designer, is one of the creators who contributed to BADG's Obsidian Virtual Concept House, which launched in late January. According to the organization's website, the initiative is a "futuristic dwelling, envisioning a home in California's Oakland Hills in the year 2025" that honors the area's rich Black cultural heritage and indigenous identity. The house sits, in its virtual form, on the unceded territory of the Muwekma Ohlone people.
The rooms in the Obsidian Concept House re-envision the need for a home space that supports the wellbeing of Black families in light of the current global and political climate. Through February, it will "evolve to shine a light on how space forms the foundation for physical, social, emotional, and creative well-being."
The new home was designed exclusively by 23 BADG members (spearheaded by New York-based architect Nina Cooke John and interior designer Leyden Lewis) and two rising stars (including Tulloch, and landscape designer Marlon J. Davis). As a result of the collaboration, Obsidian Concept House reimagines home as a supportive space for expressions of joy and creativity, especially as COVID-19 disproportionately affects BIPOC. The imagined spaces are filled with organic shapes, natural materials, bold artwork — all with a focus on comfort and communing.
The notion of family for Black communities, says Tulloch, is composed of extended relatives and friends, and the pandemic has caused many to have to adapt these relationships to fit our current way of living. He adds that creatives who have relied on access to studios and equipment outside of their home have also needed to shift their practices during this time.
This has all made Tulloch realize the need for a space for "communal creative expression within the home." For the designer, it's important that families have "a space to be creative, tinker, and embrace their hobbies, and passions."
His room, designed exclusively for Obsidian Concept House, is a reflection of that. Titled "Solare," it's dedicated to relaxation, exploration, and creation for family members and guests. It also serves as a threshold between the main house and car garage. Ultimately, it's a common space to be used to prepare for the day and a place to decompress at the end of it.
"As our homes have become our new everything, they need to be more adaptable spatially and allow for families to mold them into expressions of their identity, lifestyle, and habits," says Tulloch.
Laura Hodges, of Laura Hodges Studio, a design firm based in Baltimore and Washington, D.C., designed the "Harmony Room" of Obsidian Concept House. The space is designed for families to eat, work, and commune. The reimagined dining room also features a large mural inspired by BADG artist Glenyse Thompson. Like Tulloch, Hodges says the pandemic has made a significant impact on how she designs homes and workspaces.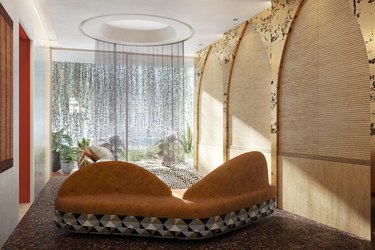 "Home has come to be a source not only for comfort and safety, but also for functionality in its myriad of uses," Hodges tells Hunker. "I've pivoted our designs to address even more physical and emotional needs so that the home can more fully support our clients' lifestyle, providing respite and calm when needed."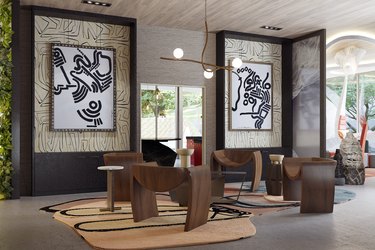 You can see this throughout many of the other spaces in the concept house. B-Framework's Bernadette Berry reimagines the bedroom as "A Place of Retreat and Respite," which is meant to serve as a sanctuary for the body and mind. Penny Francis and Casi St. Julion, the duo behind Eclectic Home in New Orleans, designed a wine room, called "Divai" — the Swahili word for wine. Cheryl R. Riley, a New York-based artist, designed the "Sanctuary" room, meant for meditation and worship.
To check out the rest of the rooms and learn more about The Obsidian Experience, click here.