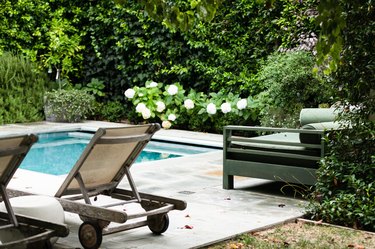 When considering an in-ground swimming pool installation, you might not have guessed that there are several types of in-ground pools to choose from. There are three main types of in-ground swimming pools — fiberglass, vinyl liner and concrete — and there are pros and cons to each. An in-ground swimming pool is a big investment for any family, and the material you choose for your pool is important, as, of course, you'll want it to have durability for years of use.
When deciding which type of swimming pool you'd like to see in your backyard, it's important to consider factors such as shape, speed of installation, finished appearance, maintenance and, of course, budget. The cost to install an in-ground swimming pool is usually between $28,000 and $55,000, with an average cost of approximately $35,000.
While budget is often a determining factor in the type of pool that ends up in a backyard, it certainly should not be the only one. Each type of pool has significant advantages and disadvantages, and knowing what these are beforehand will allow you to install the backyard pool of your dreams where your family and friends can spend time together.
Fiberglass Swimming Pool Advantages
Fiberglass pools are manufactured as preformed shells that are lowered in one piece into the pre-dug hole and set on a solid base of sand or gravel and then leveled. Once the pool shell is in the ground, the connections for the plumbing and filter system are attached. The pool is then filled with water at the same time that the space around the sides of the pool is backfilled with sand to provide equal pressure and prevent the pool from bowing. Today's fiberglass pools come in a wide variety of shapes and sizes and can include preformed steps, seats and benches, unlike the fiberglass pools of a few years ago, which were only available in a limited number of basic shapes and sizes.
There is no framing required with a fiberglass pool, making this the quickest and easiest type of in-ground swimming pool to install, with an average installation time of a week or less. This ease of installation also makes it less expensive than a concrete pool, with starting costs under $20,000 for a 10 x 16-foot pool. Fiberglass pools also require less maintenance and cleaning, with fewer chemicals needed than other in-ground pools. Fiberglass swimming pools can be expected to last 25 years or more, and though they are slightly more expensive to install than vinyl, they will cost less in the long run than both concrete and vinyl.
Fiberglass Swimming Pool Disadvantages
While there is a larger variety of shapes and sizes available than ever before, it's very difficult to order a custom fiberglass pool, meaning you are usually limited by what is available. Because they come in one solid piece, the size of a fiberglass pool is limited. For this reason, fiberglass pools are usually smaller than concrete pools. You'll need a big area that is clear of tree branches and overhead power lines in order to install a fiberglass pool because it requires a crane to lower it into the ground.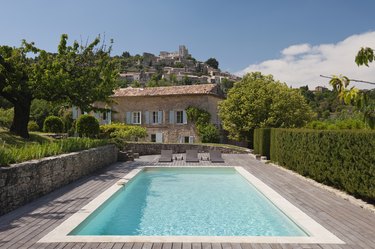 Vinyl Swimming Pool Advantages
A vinyl liner pool is constructed of an in-ground frame built of plastic, steel or concrete with a concrete or sand base. Wall panels are attached, and a heavy-duty vinyl liner is then attached over the frame. A key benefit is that a vinyl liner swimming pool is the least expensive to install, with prices starting below $15,000 for a 10 x 16-foot pool.
This type of pool can also be customized in a variety of shapes, sizes and depths, and liners come in several designs and colors. With an average installation time of approximately two weeks, a vinyl liner pool takes a little longer to install than a fiberglass model but is still quicker than a concrete pool. A vinyl liner swimming pool is built to be resistant to algae and is easy to clean.
Vinyl Swimming Pool Disadvantages
A vinyl liner will not last forever. In fact, the liner will need to be replaced every five to 10 years on average at a cost of around $2,000 to $4,000. Pool liners are made of heavy-duty material, but they can tear. The good news is that a tear can usually be repaired without replacing the liner, but the bad news is that it will cost several hundred dollars per repair. Liner repairs and replacements can quickly offset the lower installation cost of a vinyl swimming pool, and those replacements will continue over the life of the pool, continuing to add to the total cost.
You can invest in a heavier liner, but it will cost more and will still need to be replaced every few years. Vinyl liners usually have a warranty, but they are often prorated, usually cover only damage to the liner seams and probably won't include the cost of labor or water to refill the pool after a repair is made.
While vinyl liners are resistant to algae, it's not uncommon to find algae in the nooks and crannies of a vinyl pool. These areas include the back of the pool steps and around and behind light fixtures. Algae growth can spread quickly, and these difficult-to-clean areas will need to be monitored.
Advantages of a Concrete Pool
A concrete pool is also referred to as a gunite pool, named for the process used to apply the concrete material. A mix of sand, water and concrete is sprayed over a grid of rebar using multiple passes until it reaches the required thickness. It is then troweled smooth and eventually plastered and painted. The main benefit of this type of pool is that it gives the homeowner more options because it can be customized into almost any size and shape. A concrete swimming pool can also include features like waterfalls and infinity edges.
Concrete swimming pools are also very durable and tend to be the longest-lasting type of pool, with a life span of 50 years or longer. Unlike a pool with a vinyl liner, dog claws and other sharp objects will not damage it. If there is damage to a concrete pool, it can be resurfaced instead of needing replacement.
Disadvantages of a Concrete Pool
Of the three types of pools, concrete takes the longest to install by far, with an installation time of two to three months. It's also the most expensive swimming pool to install, costing $25,000 to $30,000 for a 10 x 20-foot pool. They also require far more maintenance and chemicals, and the pool surface should be cleaned at least once a week to prevent algae growth.
A gunite pool may need to be replastered every 10 to 15 years because the chemicals used to prevent algae growth can damage the pool. Including maintenance, the overall lifetime cost of this type of pool can easily exceed $50,000. The surface of gunite pools is hard and rough, which can be hard on the feet and can lead to a variety of scrapes, cuts and bruises.