There are some people who just stand out on the decor side of Instagram. Maybe it's because of their unique approach to small space living, or their thoughtful ways of turning vintage finds into stunning decor, or their overall departure from basic style. Few people manage to shine in all of those areas, but North Carolina-based creator Melanie Gnau does it and does it well.
The face behind the A Small Life IG feed and blog, Gnau specializes in creating beautiful home vignettes, sustainable DIYs, and the occasional Apple Cider Sangria. She also does it all while maintaining a focus on simplicity and offering minimalism coaching for anyone who'd like to learn from the best.
We had the chance to chat with Gnau about her lifestyle, her multiple-year stint in an Airstream (which she shared with her husband and pup!), and the ways her Isleta Pueblo heritage influences her decor.
​Hunker: You focus a lot on living small, prioritizing minimalism, and you even lived in an Airstream for nearly four years! How can others start on a similar path?​
Melanie Gnau: I think the first step is finding your "why." Maybe you need to save money, maybe you want to spend more time with your family, maybe you just hate cleaning — finding your why is the first step, and your why is what you'll come back to when things get tough.
​Hunker: How did you become so interested in this lifestyle? How do you manage to have such a beautiful home without constantly buying new things?​
​MG:​ In 2013 my husband and I were newly married, and we felt like we were stuck on a hamster wheel financially. We were both employed in the school system, but we spent most of our money on rent and found it very difficult to save money. Living in the Airstream allowed us to save and helped us to focus on what we truly wanted in life.
Like most skills, minimalism is a practice! Living in an 188-square-foot Airstream was an extreme way to learn minimalism, but I don't think you have to live in a tiny house to live more minimally.
[There are] all kinds of tricks I've used to stop myself from shopping. I unsubscribe from tempting emails. When I was saving for something specific, I wrapped a photo of my goal around my credit card. That way when I pulled out my card, I had to be reminded of that goal. I've also given myself a 24-hour rule. A lot of purchases are impulsive and after a day, I usually don't want the item anyway.
These tricks are fun, but minimalism truly is a muscle and it takes time to learn.
​Hunker: Do you find that your Isleta Pueblo history works its way into your decor at all? Is it tough to find a balance between that and your minimalist approach?​
​MG:​ I do! I think that my Native heritage has taught me to be innovative, resilient, and eco-minded. I use a lot of reclaimed materials and vintage items in my home. I think it's important to remember that we are stewards of the earth and most of our things will outlast us.
​Hunker: You've spoken about the beauty of Native heritage a lot over on Instagram and how it can be celebrated, especially when it comes to home goods. But are there any tips you can share about how decor lovers can avoid appropriating Native culture?​
​MG:​ First and most importantly, buy from Native designers and makers. It's not appropriation to have a Native-made item in your home. It is appropriation when the item was made and sold by someone who is not Native.
Most Native art and craftwork will have an about or policy page regarding the authenticity of products being offered for sale. The Indian Arts and Crafts Act of 1990 (P.L. 101-644) actually prohibits misrepresentation in the marketing of Native art and craft products in the United States. Not only is appropriation yucky, in some instances it might be illegal.
So take a careful look at what you are buying to determine if it's merely native-inspired or truly made by a Native artisan.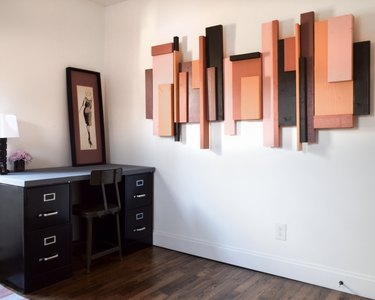 ​Hunker:​ Are there any Native creators or home goods sources that you recommend?
​MG:​ [There are] so many! Here are a few of my favorites:
Eighth Generation is a Native-owned business that specializes in wool blankets but also carries towels, fine art, prints, and more.
Beyond buckskin is an online boutique that showcases Native designers. It carries way more than just decor items, but I love their fuzzy blankets and limited-edition prints.
Indian Pueblo Store is owned and operated by the 19 Pueblos. It showcases work from Pueblo and Southwestern Native artists — including (but not limited to) pottery, baskets, mugs, and storyteller figurines.
Adopt an Elder is a nonprofit that helps reduce hardships facing elders on the Navajo Reservation. As part of the program, on behalf of the elders, they sell rugs and jewelry made by the elders. The elders receive 100% of the proceeds from the sale.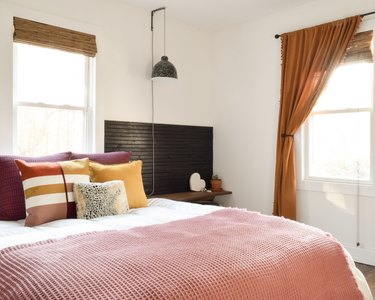 ​Hunker: Even in the midst of such a hectic time, you seem to stay so grounded and calm at home. Any tips on how we all can get a bit of that calming energy while we're in our homes 24/7? Maybe a relaxing routine, product, or even a playlist that helps?​
​MG:​ I'm glad I come off that way! I don't always feel grounded and I do think it's a challenge to work, play, and relax all in the same area.
It always helps me to get out of my home in the afternoons, take a walk, look at the sky, and listen to music. I have a playlist of Indigenous artists that I like to listen to.