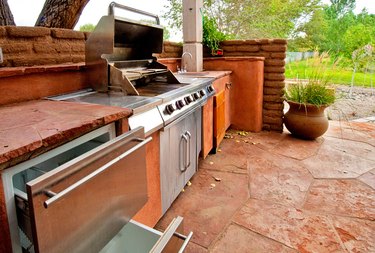 Chopping, dicing and preparing food on the kitchen countertops is a dull activity — until it's performed in your outdoor living space with the sun streaming in on the patio. Just as there are a number of options available when selecting kitchen countertop materials for inside the home, you have similar possibilities when picking outdoor kitchen countertops. Some of the elements to consider when selecting a countertop material for your outdoor space include looks, functionality, durability and cost.
While many of the countertop materials used indoors can move to the outside, there are exceptions. In addition to the routine wear and tear that inside counters endure during food prep, outdoor kitchen countertops must be able to stand up to rain, snow and intense sunlight. That means that some favorite countertop materials won't make the cut, and some that do require more attention and maintenance than they would if installed inside.
When picking outdoor kitchen countertops, most homeowners use the same criteria they use when selecting inside countertop materials, but there are some differences.
Inside counters are designed to fit on top of standard 24-inch-deep base cabinets, but most outdoor kitchens are designed around a built-in grill that often requires more than a 24-inch-deep counter. That means that while the counters are usually a standard 36 inches high for someone working at the counter and about 42 inches high for counter-side seating, they may be 30 to 36 inches deep.
The best countertop materials for outdoor kitchens tend to be natural products or those made from natural materials, such as stone, tile and concrete. Engineered, or man-made, products such as quartz (which is an engineered product and not a natural stone as many people believe), laminates and solid surfacing cannot hold up as well outside.
The laminate material itself may be fine, but most laminates are attached to a particleboard core that swells and disintegrates when wet. Quartz and solid surfacing contain additives and resins that fade when exposed to the ultraviolet rays of the sun.
Ceramic and porcelain tiles are good choices for outdoor kitchen countertops. Tiles rated for outdoor use are impervious to the elements, are available in numerous colors, will last a long time if properly maintained and are an economical choice when compared to other countertop materials.
Porcelain tiles differ from ceramic tiles because they are manufactured using finer clay and heated at higher temperatures than ceramic tiles. Porcelain is denser than ceramic, and the color goes all the way through the tile. Ceramic and porcelain tiles will cost $10 to $30 per square foot including installation. Natural stone tiles, including granite and slate, are also suitable for outdoor use, and these may cost more than porcelain or ceramic.
You can reduce the cost by handling the installation yourself. Tiling takes some skill, but it is not beyond a competent DIYer, especially because countertops are flat, horizontal surfaces that don't require bending and kneeling as you would when tiling a floor. The most important part of the project will be getting the substrate right.
On interior countertops, the tile is often installed directly on a plywood base, although a layer of cement board between the plywood and the tile is preferred. Exterior counters require the extra protection of exterior-rated plywood topped with cement board. A waterproof membrane, either a sheet product or a roll-on liquid, is installed between the cement board and the mortar that holds the tile in place.
The tiles themselves will stand up to the elements, but the grout between the tiles will need to be sealed to prevent discoloration. You can reduce the grout surfaces by selecting large tiles for the countertop.
Concrete Countertop Material
Concrete is a trendy material for indoor kitchen countertops, and it is just as popular when used for outdoor kitchens. Its strength and durability characteristics are well known, but many people don't realize that the concrete used on a countertop is a far cry from the material that may pave their front walkway. Additives and dyes can change the color of the material, and polishing techniques can produce a range of finishes, from glossy to matte.
An outdoor concrete countertop will cost about $60 to $80 per square foot, which is slightly less than a countertop fabricated for inside use. Many interior counters are fabricated off-site because concrete work is messy, but outdoor counters are usually poured right on top of the base cabinets.
One way to judge the popularity of a building technique is to note the products developed to service the technique, and concrete countertops are no exception. There are concrete mixes designed for countertops and special forms for counters that let you create a standard square edge as well as special shapes, like bullnose and ogee.
While a concrete countertop will last for years, they are vulnerable to stains because the material is porous. There are sealers and waxes you can apply to help resist stains, but concrete remains vulnerable to staining in any case.
Stone Countertop Material
Natural stone is a no-brainer when it comes to outdoor countertops. Most stone products are beautiful and strong and will last for years. Quarried stones, like granite and marble, that contain veining and color variations are unique products with no two slabs looking exactly alike.
They are also among the most expensive options. Installation involves precise measuring, cutting and fitting and is best left to a qualified countertop fabricator. If it is necessary to cut the stone from more than one slab, a good fabricator will try to match the pattern as closely as possible.
​Granite​ is one of the most sought-after countertop materials for both interior and exterior use. It is strong, with hundreds of colors and shadings available. It resists heat from the sun and from hot pans. It is fairly stain-resistant as well, although it does need to be sealed when installed and once a year afterward.
Expect to pay about $40 to $100 per square foot for granite countertops. Some granite is treated with resins to strengthen the slab and to correct imperfections that might be objectionable to consumers. The resins can fade and change the color of the stone when subjected to intense sunlight, so sealing and other forms of protection become even more important.
​Soapstone​ is available in solid black to gray colors, although slabs with subtle veining are available. It offers a color contrast to granite and marble. Soapstone is nonporous, so regular sealing is not necessary. It resists heat as well as granite does.
The material is softer than granite, so it is susceptible to nicks and scratches. Fortunately, minor damage can be buffed out with sandpaper. Some liquids can leave dark spots on the counter, but these can usually be removed with a little soap and water. The material costs $30 to $70 per square foot.
​Marble​ spurs a lot of debate among outdoor kitchen designers. Many if not most believe it should not be used outdoors because it is too porous, and glossy finishes will fade from taking a beating from the elements. Acidic food and drinks can etch the surface, leaving hard-to-remove stains. In short, it takes constant maintenance to keep the surface looking like new.
There are those who believe that the regular sealing is worth it, and by selecting a matte rather than glossy finish, stains are easier to hide. Marble is a durable material, and many like the look of marble that ages naturally. Marble counters can cost $50 to $200 per square foot.
​Quartzite​ is a natural stone that is often confused with quartz, which is an engineered product. Quartzite is a durable product that won't fade in the sunlight, although it should be sealed yearly. It has some of the same qualities as granite, but hot pots can damage the surface. The material has veining that is similar to marble but in more muted colors. Quartzite counters range from $60 to $100 per square foot.
Stainless Steel Countertop Material
Stainless steel countertops are strong and easy to keep clean, requiring little maintenance. The material provides an unmistakable industrial look, but it will also match grill covers and other appliances used in outdoor kitchens. Cabinet doors used in outdoor kitchens are often made of stainless steel.
While being tough, thin steel can dent, so it is best to have counters made of 16 gauge (1/16 of an inch thick) or better. The lower the gauge number, the thicker the steel. Sunlight will make most countertop materials hot to the touch, and stainless steel can become very hot.
Stainless steel countertops should be fabricated and installed by professionals. Joints are welded together but are then polished and buffed so that they are invisible. The material will cost $70 to $100 per square foot.
Ultra-Compact Countertop Material
Ultra-compact countertop material is relatively new. It's made of the same materials as quartz, but the manufacturing process, called sinterized particle technology, involves subjecting the raw materials to extreme pressure and heat during the fabrication process. The procedure is said to mimic what happens to natural stone when subjected to pressure and heat over thousands of years. The result is a durable, nonporous material that can withstand the extremes of heat and cold. It is an engineered product, but it is rated for outdoor use.
Dekton is the principal brand of ultra-compact material, and the company produces the material in about 40 colors. Solid colors go all the way through the material, so if it is nicked, the damage will not be noticeable, and the colors will not fade.
Because it is relatively new, it may be difficult to find fabricators familiar with the product, but that may be changing because it is now an offering at The Home Depot as part of the retailer's countertop installation service. The material costs about $60 to $120 per square foot.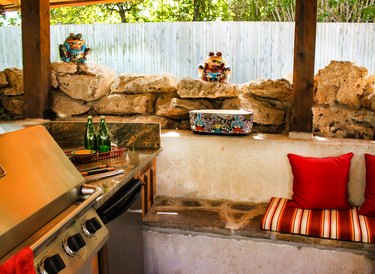 Many outdoor kitchens are custom designed and built, but there are ready-to-assemble (RTA) outdoor kitchen kits available. Some of the kits are sold as grill islands that include a built-in grill and some type of cabinet storage as well as a countertop. Most of the kits are under 10 feet wide and are shipped in pieces that are assembled on-site. The sides are usually finished with stucco or stone veneer, although other finishes are available.
The countertops can range from aluminum to stone tile to a concretelike material that is lighter than standard concrete. When selecting a kit, consider how you will use the grill. It is a good idea to plan on countertop landing space on both sides of the grill. Counter space makes cooking at the grill easier, and it cuts down on the need to run back and forth between the house and the grill.
The other option is to buy the RTA cabinets and develop your own layout design. The cabinets come in different sizes, and as in an interior kitchen, the cabinets have different uses. There are cabinets for storage as well as those built for a grill, an outdoor sink and other appliances.
The cabinets are usually framed with aluminum. Some arrive finished, but others are covered with cement board. The waterproof cement board can be finished with stucco or a stone veneer. Cabinet doors are usually sold separately.
Maintaining Countertop Materials
Always follow the manufacturer or fabricator directions for cleaning and routine maintenance. In general, it is best to follow kitchen countertop protocol: Use trivets under hot pots, use cutting boards instead of cutting directly on the countertop and wipe up spills quickly.
For routine cleaning, countertops require nothing more than washing with a soft cloth or sponge and a mild detergent. For natural stone, use a neutral cleaner. Never use abrasives on stone because they can scratch the surface. There are a number of products formulated for stone and tile cleaning.
Natural stone and concrete should be sealed when the counter is installed and periodically thereafter. Check with the manufacturer or fabricator for directions. The grout on tile applications should also be sealed. Always make sure the surface is clean before applying a sealing product. Engineered products, like ultra-compact counters and stainless steel counters, do not need to be sealed.
When planning for an outdoor kitchen, it helps to include some sort of cover or other shade to keep materials out of direct sunlight. This will help them look like new longer and keep them from getting too hot to touch. Another precaution is to cover the countertop when it is not in use, especially during the winter months.