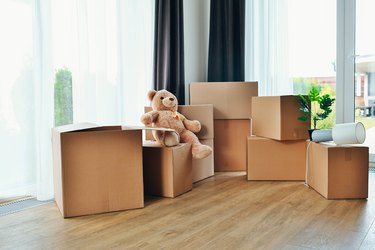 Moving can be a daunting task. Along with figuring out where you're going to live, you have packing, transportation, and unpacking to worry about, too. Fortunately, there are a slew of savvy apps you can download to help make your move go swimmingly from start to finish. From an app that offers virtual apartment walkthroughs to one that will help you organize your moving boxes, here are six apps that will make your move a breeze every step of the way.
For as fun as shopping for a rental can be, walkthroughs and home inspections can be exhausting — especially during the pandemic. Enter RentCheck, a new digital property management system that allows tenants to engage in remote inspections and walkthroughs, saving prospective renters an enormous amount of time and money. Currently, roughly 80,000 properties are utilizing RentCheck, including major management companies like Great Jones and Darwin Home, so do yourself a favor and download the app to search for units you can tour and inspect from the comfort and safety of your smartphone.
Whether you're looking for a new place to live or trying to sell your current home, the Redfin app has you covered. Along with an easy-to-navigate home finder tool, the app allows you to compare everything from mortgage rates to real estate agents and home value estimates, making it the perfect app for sellers and buyers to download before planning a move.
If you're already super busy and feeling overwhelmed at the thought of moving, then Moved is the app for you. After answering a handful of questions, the Moved app pairs you up with a personal assistant that helps you plan and coordinate the logistics of your move, including comparing moving company costs, finding available storage units, ordering packing supplies, and even handling mail forwarding.
Ask anyone in the process of moving and they'll say the same: Packing is stressful. To stay organized and on top of packing up your home, download the Sortly app for some goof-proof assistance. In addition to virtual inventory lists and moving checklists, the app allows you to categorize your personal items by room and/or box and create unique labels for them, so you can coordinate and manage packing for your move from the convenience of your phone.
While you are packing for your move, there's a good chance you're going to come across a lot of stuff you don't want to take with you. Luckily, Letgo is a free app that simplifies selling and buying used goods in your local community. Simply post photos and details of the items you're trying to get rid of, and the app will connect you to interested buyers in your area — no lengthy Craigslist ad necessary.
Whether you're struggling with lifting heavy boxes or hanging artwork in your new home, TaskRabbit can help. The popular app connects users with background-checked "taskers" offering an array of skilled services — think packing, painting, and assembling furniture — that you can hire on an hourly basis to simplify your move. The app also allows you to browse local "taskers" based on their prices, reviews, and qualifications, so you can ensure you're getting the best deal on just about any random to-do that pops up during your move.