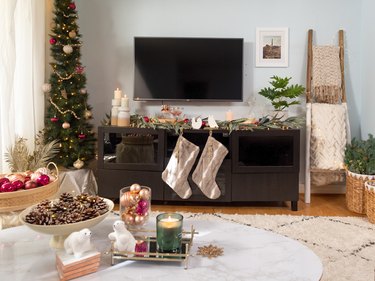 Every holiday season you're faced with the same design conundrum: Go the classic route with traditional, heirloom decor, or spruce up your space with a festive aesthetic that actually feels like ​you​.
This year, Hunker's senior social media manager Lacey Won opted for the latter — and as a social media pro, she's basically an expert at nailing a photogenic aesthetic. She wanted to go all in on all the best parts of decorating for Christmas (i.e. twinkly lights, candles, and cute polar bears) without leaning into the sometimes-cheesy red-and-green overload.
The result? The total transformation of her sunny California living room into a cozy holiday haven, thanks to a shopping trip to At Home, where she totally hit the jackpot on seasonal decor. With legit miles of shelves filled to the brim with budget-friendly options, she was able to find her holiday-decor sweet spot without breaking the bank.
Watch the video below to see Won's living room transform into chic Christmas goals — and copy her three-step process for outfitting your personal space, too.