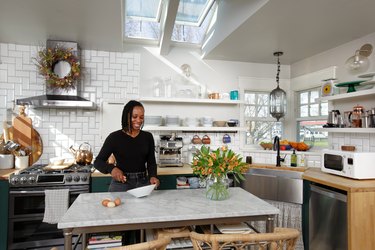 Natural light can upgrade an already-eye-pleasing pad to indisputably breathtaking — which is what made it a no brainer for interior designer and content creator Shavonda Gardner to tap into the powers of the sun to illuminate (and ultimately elevate) her 1200 square-foot, 1940s cottage bungalow in Sacramento, California.
"There's absolutely no denying the power of natural light in a home, especially when you have a smaller home," Gardner says. "I wanted to flood ours with as much light and air as possible." To add an even more ​au natural​ feel to her space, Gardner opted for installing VELUX No Leak Solar Powered "Fresh Air" Skylights, which open to let outdoor breezes in and feature rain sensors, a remote control, and easy-to-add blinds.
After adding a skylight to her bathroom two years ago, Gardner already knew the scale of transformation this type of addition can make. "There's nothing that adds to the beauty and enjoyment of a home like light and air," Gardner says. "Our kitchen is on the smaller side, and even though it has several windows, because of the way the house sits, there are lots of shadows and the space can feel darker."
Need more proof that skylights are the unsung aesthetic hero your home's been missing? Keep scrolling for a closer look at Gardner's experience with her skylights — and gawk at all the double-tap worthy photos while you're at it.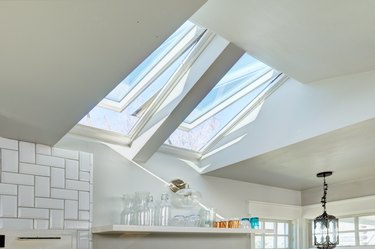 Gardner's favorite feature of her VELUX Skylights is that they allow air to freely flow throughout her home all year. "I love it so much for a kitchen because cooking gives off moisture and smells, so being able to keep it comfortable and fresh in the space makes it so enjoyable to cook and be in," she says.
And if you're thinking to yourself: "How in the world do you manually open these?" Gardner uses the VELUX Active smartphone app or remote control to open and shut her skylights completely hands-free. "Having the ability to open the skylight with a smartphone app when cooking things like seafood or even preparing fried foods is a big, big benefit," Gardner adds. Can't take the heat? You don't have to get out of the kitchen — just open the skylight.
Gardner leans into a moody, pattern-filled aesthetic, and her skylights showcase the bold pops of color that dot her kitchen, while keeping the vibe fresh and not too heavy.
"I also really appreciate how the natural light really highlights some of the design details in the space, like the design of the tile backsplash," she says. "We also have only eight-foot ceilings, so being able to raise our ceiling height a bit, and add more light in was really appealing." Bright, airy, and aesthetically pleasing — what more could you ask for?
Save on Energy, Boost Your Mood
Of course aesthetics count, but Gardner wanted more for her kitchen than just a supremely Instagrammable breakfast backdrop. "Natural light is a huge deal, and having the best possible light in a space as utilitarian as the kitchen is a major win," she says. As the most-frequented room in the house, think of all the energy you could save by ​not​ flipping the light on every time you're hungry.
And, the final (but possibly biggest) benefit Gardner has already been reaping from this bright addition to her kitchen is the overall mood boost. "I always feel so good walking in every morning to start my day with the beautiful light pouring in from above," Gardner says. "Seeing a soft glow pour in at night for golden hour is also a delight." The interior designer has spoken.