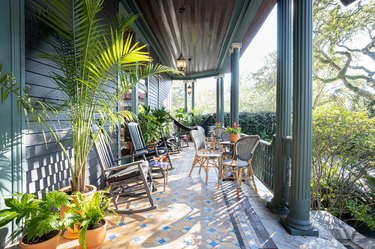 It's hard to imagine what the future of travel might look like — especially when you haven't left your house in seven months. But when travel does return, it's going to look different. Think: smaller, more curated hotels (who wants to be crammed in an elevator with 10 people?), less focus on touristy neighborhoods and more on community, and even increased exploration of your own city. The Chloe, a new hotel in New Orleans, is well prepared for this new moment in hospitality.
The hotel is the brainchild of LeBlanc + Smith, a hospitality group that operates an array of restaurants and bars in the city, including Sylvain, Barrel Proof, Cavan, and Longway Tavern. Set in a 19th-century mansion near the Garden District, The Chloe has 14 guest rooms, each uniquely decorated by designer Sarah Ruffin Costello and featuring amenities by the city's artisans and makers.
While the opening was delayed by COVID-19, the hotel is now hoping to give guests the experience of a local, while also attracting residents to enjoy the restaurant or a drink on the gracious porch.
We spoke to owner Robert LeBlanc about opening The Chloe amid a global pandemic, the future of travel, and why New Orleans is once again becoming a must-visit spot.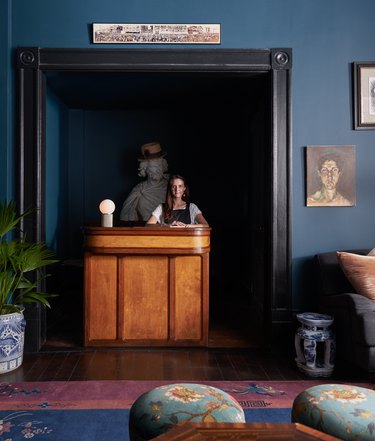 Hunker: What made you decide to open The Chloe?
​Robert LeBlanc:​ We have a collection of boutique restaurants and bars in New Orleans right now, and I've always been enamored with hotels. I could never wrap my head around doing a 150 room hotel in a business district or a downtown district. That's so driven by real estate development, and I wanted to make sure that we did things that were always driven by hospitality. So, this smaller building fits what we always thought would be an important hotel.
I think the way that people travel in the future, is they'll want to stay in smaller hotels that are capable of being more deeply embedded in historically and culturally significant neighborhoods that gives guests a sense of terroir in those neighborhoods. And so we were looking for smaller places to do this cool hotel idea and the building in which we did The Chloe was just this magical building that was in pretty good shape and had amazing bones.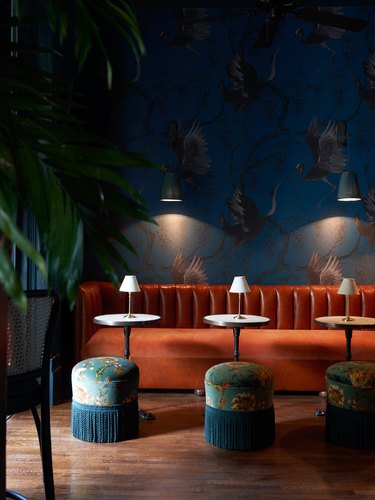 Hunker: How did you choose the location?
​RL:​ We loved the idea of doing something in Uptown New Orleans. I went to school at Loyola University in New Orleans and I live Uptown with my family. I think [Uptown] has a bit of a sleepy reputation. And that when you think about cool or interesting New Orleans neighborhoods, Uptown is never one of them. But the reality of it is, a lot of the things that have made significant cultural statements, nationally and internationally on behalf of New Orleans — they are all Uptown. Cure just won a James Beard Award for Best Cocktail Bar. There's La Petite Grocery and Shaya. Ashley Longshore and Alex Beard are brilliant artists who're here. Peaches Records is here, [as well as] Tipitina's, and the Maple Leaf. So there's all these really cool culturally relevant things that exist Uptown but nobody's really thought about tying the neighborhood together as its own cultural pocket in New Orleans. The Chloe gives us a really strong platform and lens through which to do that, not only for people who are coming to us from out of town, but also for people from New Orleans ...
Hunker: What was the inspiration for the design and the renovation?
​RL:​ The building was built in 1891 and we wanted to make [it] look as though it had been in the same family for five generations. It was built by a gentleman named Henri Picard — he was a grocer from France and he was a tremendous benefactor to Touro Synagogue and Touro Hospital, which are institutions on St. Charles Avenue, the street where the hotel is located. This guy made a really interesting impression on the neighborhood. And what we wanted to do is present it as though it had been in his family for five generations, so you have furniture and art that would have been there when he was there. And then you have pieces that might have been collected by all five generations in their travels. So it's this progression, and it's integrated pretty seamlessly between having one foot rooted in the history and tradition of the building and the other foot firmly ensconced in the creative expressions that reflect 21st-century New Orleans.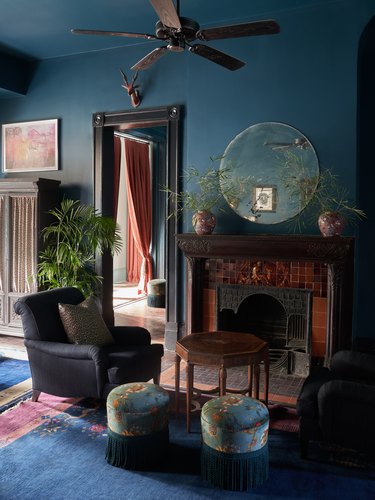 Hunker: What was the design process like? How did you work with Sarah Ruffin Costello?
​RL:​ We design our restaurants and bars ourselves, but those are rooms that you spend maybe two hours in and [we pour] drinks pretty stiffly, so over time, no matter what it looks like, it's gonna look better. But the prospect of designing something that someone would live in was really overwhelming and intimidating. We pride ourselves on attention to detail, but Sarah's level of attention to detail is off the charts.
Hunker: What are some of your favorite elements of the design that she incorporated?
​RL:​ She's got this really cool Leslie Rodger installation. Leslie's an artist based here who does a lot of taxidermy of these beautiful and exotic birds. Sarah found an incredible old bust, that goes behind our check-in desk. It's just this beautiful, striking piece of stone that's an interesting juxtaposition with all the woods in the hotel. Collectively, my favorite thing is just some of the furniture that she found. She found all these pieces that are so mish-mashed, but the way that they're arranged in the hotel, they go perfectly together.
Hunker: Were a lot of the furnishings and pieces sourced locally?
​RL:​ A lot of them were sourced locally, some of them were made or refurbished locally. And some of them, Sarah would just hop in her car and drive to North Carolina or Virginia and just kind of scour art markets.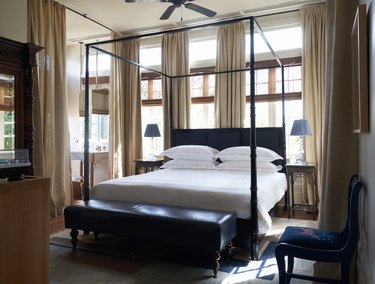 Hunker: How did you all incorporate local talent into the experience?
​RL:​ Trish Bhansali of Lekha did the bathrobes and all the garments for the hotel. We worked with a company called Oxalis to make beauty products and candles.
[Peaches Records] outfitted every room with record players and Marshall amps. One of the experiences they helped us to curate was they picked 14, quintessential New Orleans albums by [local] artists, and they matched it with 10 or 11 albums that that artist and that album influenced, that people might not have put together otherwise.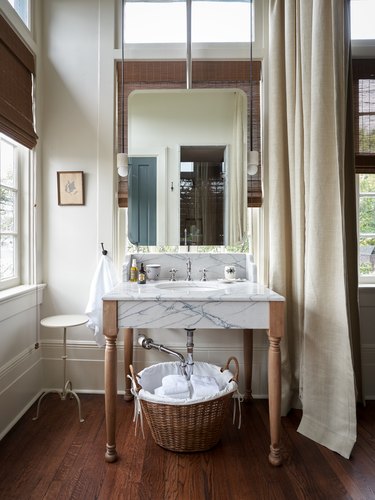 Hunker: New Orleans tourism has increased over the past few years. What do you think is making it a destination again?
​RL:​ I think the city ... has done a much better job of really highlighting the attractions that are appealing to cultural tourism. New Orleans has always done well with Mardi Gras and Jazz Fest and Voodoo Fest and Halloween, and all those big attraction events. Travelers have become more enlightened and more sophisticated, and they want to pursue more authentic local artistic and cultural experiences. They try to travel to places that can offer those things, and I think we've done a much better job in the last four or five years of really highlighting the things that are fascinating about New Orleans.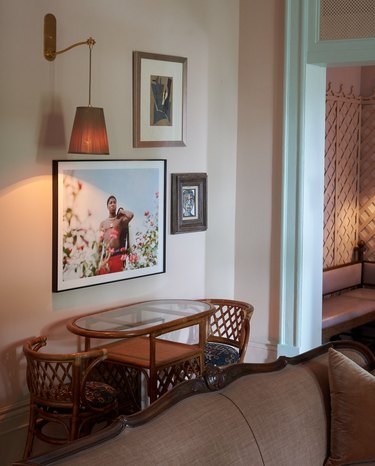 Hunker: And how about hospitality now and post-pandemic?
​RL:​ I think people are still going to want to eat and drink, but they're going to want to do it in outdoor spaces that are a little bit more socially distant. People are going to want to enjoy experiences with their own pods of people. So you may go to a restaurant, but you don't want to sit in the main dining room, you want to sit in the private dining room with two or three other couples with whom you've been social throughout this pandemic. People will always crave and want to have a sense of community. So I think hospitality will come back, but there's going to be a lot of health and safety practices that we all adopted, that you may see have become habit and are just is going to be second nature.
​Interview has been edited and condensed for clarity.​