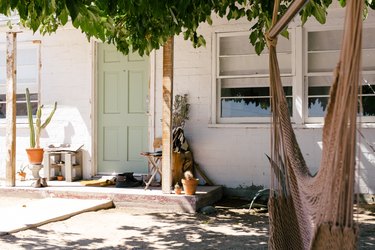 If you thought you had to come up with a 20% down payment to purchase a home, then think again. "Most lenders will provide you with a mortgage with less than 20% down; however, you'll likely have to pay Private Mortgage Insurance (PMI), which could add a few hundred dollars more a month to your mortgage payment," says Shannon McLay, CEO and Founder of The Financial Gym. "However, if this is also your first time buying a home, some lenders may have programs that will allow you to put less than 20% down and not pay PMI."
Interested in hearing more about how to buy a home for less than 20% down? We asked four homeowners to share their stories and this is what they had to say.
When Financial Gym clients Aubrey Hoffman and Alejandro Hernandez purchased a four-bedroom single family home in Palmetto Bay, Florida, they only paid a 10% down payment. "We had been saving for a few years and were able to save a large portion of our income by choosing to go with a lower rent," Hoffman explains. "We decided to finance with a conventional loan because the interest rates were so low and we did not need to put a full 20% down."
Ultimately, Hoffman and Hernandez decided to put 10% down, and commit to an interest rate of 2.75%. "Since we put less than 20% down we also agreed to pay $110 a month in PMI, which to us was worth it," Hoffman explains. "Our mortgage is around $3,100 a month. This includes principal, interest, flood and hazard insurance, and our PMI."
Before Samantha Cash bought her duplex with two, two-bedroom apartments in Green County, New York, she had already established a sound savings plan. "I had no idea how to allocate my savings, but I worked with my financial trainer at The Financial Gym to come up with a plan that put some money towards my house, a bit for retirement, and some towards other goals," she explains. "In March, when I originally put in my offer I wanted to put down 20%, but in June when the property was ready for me to move in, I decided it was better to keep more money in the bank to protect against sudden expenses or job loss."
Cash worked with a local bank, Trustco Bank, that allowed her to pay a 10.5% down payment on a conventional mortgage, while they covered the costs of PMI. "However, I should mention that my closing costs were not included in the loan amount, and that my bimonthly mortgage payment doesn't include taxes or home insurance, so I have to make sure I'm saving for them on my own," she says.
When Rolando Murillo first began working with agent Jeanne Rich of Coldwell Banker Realty to purchase a three-bedroom beach house in North Middletown, New Jersey, he knew he didn't want to pay a full 20% down payment. "Knowing a beach house was in my short-term plans, I did not want to wait to save the ideal 20% for a home purchase," he explains. "I had 5% available from monies that were saved from a work bonus, and rather than place those funds towards retirement, I decided I would use the funds for a beach home."
Murillo opted for a 25-year mortgage at an interest rate of 3%, knowing he would have to pay extra on the principal each month. "This was strategic," he explains. "I had moved from D.C. and sold my home there. I waited three years to be considered a first-time home buyer. I truly believe this is what helped me negotiate a lower down payment coupled with working with my credit union for the home loan."
When Financial Gym clients Peggy Ekong and Marlon Bailey decided to buy a one-bedroom cabin in the heart of the Catskills, it was the second time they'd purchased a home for less than 20% down. "For our first home we only put 3% down by taking advantage of first-time home buyer programs that are available across the country," Ekong explains. "Every community has local mortgage counseling offices that partner with banks and offer first-time home buying classes and access to incredible resources that can help with your purchase."
For their latest home purchase in Margaretville, New York, the couple worked with a mortgage broker that was able to find them a loan that only required 10% down instead of the traditional 20% for second home purchases. "We took advantage of the current low interest rates and have a 30-year fixed conventional mortgage," Ekong adds. "Our mortgage will be cheaper than renting an Airbnb."