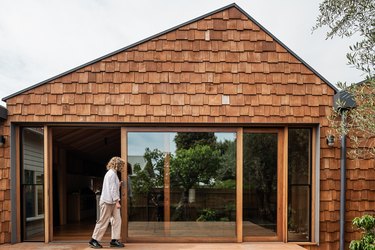 When you have kids, the entire house tends to become their territory. But when they decided to expand their Edwardian home in the suburbs of Melbourne, a couple with four children wanted to create a space of their own. "Our spatial planning focused on designated parent and kids' zones, located at opposite ends of the house," says architect Melanie Beynon. Working with the clients, who served as the builder of the project, Beynon connected the two areas with an open living area, which became the central hub of the home.
When it came to materials, the architect wanted to find surfaces that would be durable, but also beautiful. She used Tasmanian oak as the centerpiece of the addition. "This was the key to creating cohesive warmth to the large, light-filled and voluminous living space by using it to line the walls, floors, and pitched ceiling," Beynon says.
Another priority was sustainability. They used reclaimed materials, including the Tasmanian oak and bricks, equipment, and fixtures. They also installed rainwater tanks and solar panels to help reduce the environmental footprint of the home. Both the layout and materials ensure that the home will work for the family for years to come.