Think "fall planting," and you're more likely to imagine mums and gourds, not desert-vibes cacti or dainty spring blooms. But the season isn't all about adding harvest-inspired plant life to your outdoor space — it's also about taking advantage of the growing conditions where you live.
For landscape designer and consultant Mike Pyle, who's based in Southern California, that means succulents, cacti, and lush greenery. If you live in a colder climate, he recommends planting bulbs now to have your greenery come spring. Keep reading for all his tips.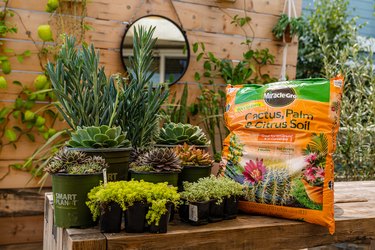 If you live in a warmer climate:
If you enjoy the heat all year round (lucky you), there's a bit more flexibility when it comes to planting in the fall. The biggest priority is to get your garden ready for new plants.
"If you have existing beds be sure to turn the soil thoroughly," Pyle says, who used Miracle-Gro® Garden Soil Cactus, Palm & Citrus for his warm-weather project. "After the soil is turned, you can introduce your Miracle-Gro® soil that caters to your planting needs." Make sure to turn the Miracle-Gro® continuously until it's consistently mixed in before planting.
Got lots (and lots) of sun? "Cacti are one of the best choices on the west coast because of their durability and minimal water use," Pyle says.
As for watering, it's best to fully soak the succulent or cactus, and then let it completely dry out before watering again. "This usually means you will be watering every two to three weeks, depending on the weather," he says. Over-watering can cause rot, so err on the side of under-watering.
If you live in a cooler climate:
Compared to warmer areas, where you can plant bulbs all the way to early November, if you live in a place with more drastic changes in temperature, start planting bulbs sometime between late September to the middle of October, Pyle advises.
His favorite bulbs for spring include crocus, daffodils, tulips, and hyacinth, but he also planted some fresh plants to add height to his flower bed now (Dianella Tasmanica Variegata and Dianella Cassa Blue, which are suitable for his warmer climate).
For his cooler-climate project, Pyle opted for Miracle-Gro® All Purpose Garden Soil. "You will need a soil that drains well or the bulbs will rot," he says. "Both soils that I used had everything (and more) already within them. Many times in the past I have had to add amendments or pumice to get the product that I needed." Miracle-Gro® All Purpose Garden Soil improves existing soil to help your plants build strong roots.
Okay, but if cacti are really more your speed? Just plant them in individual pots so you can bring them inside once the temperature drops, says Pyle. Fall planting, your style.