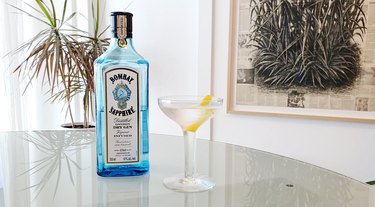 The perfect martini is a thing of beauty, and we've found the last recipe you'll ever need. Atlanta bartender Tiffanie Barriere teamed up with Hunker and Bombay Sapphire to show us how to do it — along with a refreshing twist.
There it is: clean, crisp class in a glass. See below for the full recipe!
Things You'll Need
2 parts Bombay Sapphire Gin

1-2 capfuls dry vermouth

Ice

For watermelon martini: 5 balls of fresh watermelon
Combine gin and vermouth in jar or glass. Add ice and stir with chopsticks, spoon or any other mixing tool in your kitchen. Strain it into a martini glass. Enjoy.
Using a melon baller or spoon, scoop 4 balls of watermelon into your glass. Mash watermelon thoroughly to release juice, then strain juice into your martini. You can use a slotted spoon as a strainer (who knew?). Garnish with a watermelon ball, and enjoy.
BOMBAY SAPPHIRE Gin
BE BRILLIANT AND INSPIRED. DRINK RESPONSIBLY!
©2020. BOMBAY SAPPHIRE AND ITS TRADE DRESS ARE TRADEMARKS.
IMPORTED BY THE BOMBAY SPIRITS COMPANY U.S.A., CORAL GABLES, FL. GIN - 47% ALC. BY VOL.