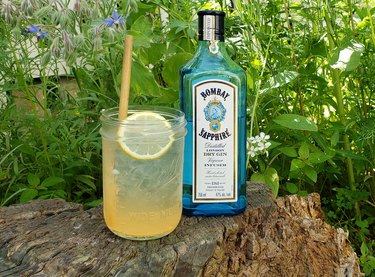 Even if you're toasting virtually, sharing a drink with a friend can be the perfect ending to the day. We've partnered with Bombay Sapphire and some of the world's best bartenders to bring you easy, delicious cocktail recipes to make in your very own home. For this one, Atlanta bartender Kellie Thorn shares her recipe for a Bombay Sapphire Collins — with an added Georgia-inspired twist.
Looks pretty refreshing, right? Here's the full recipe:
Things You'll Need
2 parts Bombay Sapphire Gin

1 part lemon juice

1 part simple syrup* (reduce to 1/2 part for Peach Collins)

Sparkling water

Ice

(For Peach Collins: 2 tsp peach preserves)
*To make simple syrup, combine equal parts sugar and water in a saucepan, heat until sugar is melted, and cool.
In a mason jar with a lid, combine Bombay Sapphire, lemon juice, and simple syrup. If preparing a Peach Collins, add preserves. Add ice (not too much, so as to allow flavors to combine while shaking); cover with lid and give it a good shake. Add more ice, then add sparkling water to fill. Garnish with a lemon slice, and enjoy.
BOMBAY SAPPHIRE Gin
BE BRILLIANT AND INSPIRED. DRINK RESPONSIBLY!
©2020. BOMBAY SAPPHIRE AND ITS TRADE DRESS ARE TRADEMARKS.
IMPORTED BY THE BOMBAY SPIRITS COMPANY U.S.A., CORAL GABLES, FL. GIN - 47% ALC. BY VOL.