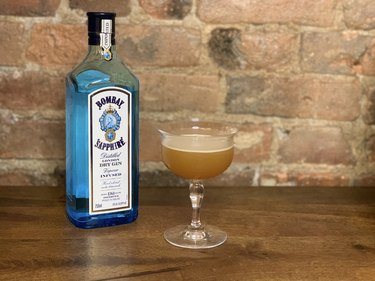 Missing your local watering hole right about now? We've partnered with Bombay Sapphire to share recipes from some of the world's best bartenders — so you can still raise a glass in style.
In this video, New York City bartender Brooke Toscano shares her favorite summer cocktail recipe: a Bee's Knees.
Things You'll Need
1 part honey syrup*

1 part lemon juice

2 parts Bombay Sapphire Gin

Ice cubes (for shaking)

Coffee ice cubes (optional — to make, just freeze your morning brew in an ice tray)
* To make honey syrup, combine 2 parts honey with 1 part water in a saucepan and heat until fully dissolved. Store in the refrigerator.
Directions:
Using a shot glass, jigger, or espresso cup, measure out and combine all ingredients in your shaker (you can also use a mason jar, as Brooke does), starting with the honey syrup, followed by the lemon juice, and ending with the gin. Add ice cubes, making sure to leave enough room to allow the ingredients to combine, then give it a good, long shake.
To serve up: strain into a glass and enjoy.
For something different: strain into a glass filled with coffee ice cubes, grate a coffee bean on top, and enjoy.
BOMBAY SAPPHIRE Gin
BE BRILLIANT AND INSPIRED. DRINK RESPONSIBLY!
©2020. BOMBAY SAPPHIRE AND ITS TRADE DRESS ARE TRADEMARKS.
IMPORTED BY THE BOMBAY SPIRITS COMPANY U.S.A., CORAL GABLES, FL. GIN - 47% ALC. BY VOL.