If I'm being completely (and ashamedly) honest, ever since many of us have been confined to our homes, I've been washing my hair a lot less. I just figured, "Why waste expensive hair products and shampoo when people hardly ever see me anymore? Who do I have to impress other than my coworkers on Zoom (sorry coworkers if you've noticed)?" Plus, washing natural Black hair isn't always the easiest feat — the process is long, I spend ages detangling, and it's so hard to completely rinse out all the heaps of conditioner I use.
Just thinking about it makes me exhausted. But when I got the chance to try a Moen Aromatherapy Combination Shower, I thought, "Could this be fate encouraging me to do better? Maybe this is how I make wash day more enjoyable." Let me explain ...
Description and My Initial Thoughts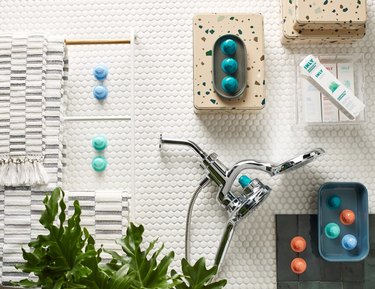 The Moen Aromatherapy Combination Shower has two parts — the standard rain showerhead (which on its own would take any rinky rental bathroom up a notch) and the detachable handshower. Altogether there are six (yes SIX) different water flows, and either part can be used seperately or jointly for maximum flow. As for the aromatherapy part, this gadget infuses essentials oils directly into your water. I'm not sure how that works, and full disclosure: I was very worried the oils would end up leaving a weird residue on my hair (which is just a no even if you don't have naturally curly tresses). You basically attach what looks like a Keurig K cup to the handshower so the scented oil can filter in. And Moen notes that each fragrance is "spa-inspired." You can choose from four: Energetic Morning, Tropical Day, Sweet Morning, and Zen Time. And you can either completely nix the scents or change the dilution from low to medium to strong. I opted for the Brushed Nickel Finish that doesn't get fingerprints or waterspots, but there's also a Chrome option that's super shiny and high-tech.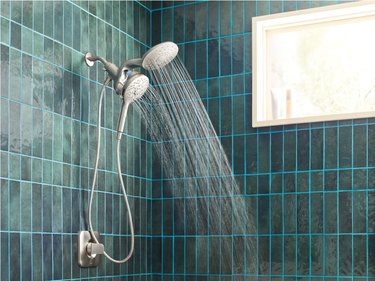 As soon as I unpacked this bad boy, I knew the water flow was going to be amazing. Both the standard attachment and the detachable hand shower were huge, way bigger than the single nozzle that was previously in my apartment. Also I could smell the essential oils before I even unpacked them. Together, they reminded me of the way my hot yoga studio bathroom smelled — very lavender-y and zen. So that was definitely a plus. But I was still very nervous the oil would leave my skin and hair awkwardly greasy instead of fresh. Let me tell you, though, my fears were unwarranted. Somehow, the only thing that lingers after showering with an aromatherapy capsule is the scent. I'm also not exaggerating when I say that when I washed my hair (using the Energetic Morning pod because detangling takes a lot out of me), I actually had ... fun? I mean it still took me almost as long as ever, but it smelled so glorious in there. And the water pressure was perfect. Plus, you can really get into every single curl, coil, and kink with the handshower. It's like having a professional shampoo and rinse at the salon but better because no one's touching you.
It took me a while to set up the Moen Shower only because my previous attachment was super old and hard to remove, so I can't complain there. My only real critique is that the scent pods are actually addictive. And after you get the setup kit (which retails for either $199 or $209 depending on the finish), you have to buy each set of capsules seperately. Personally, I can justify the price for refills ($15.99 for five or $61 for 20) because I'll still be spacing out my wash days (maybe with shorter times in between now). And the experience is really unlike anything else. It gives you something to look forward to after a long day. My only suggestion is that you don't use a scent with every shower. You'll be tempted, but don't give in because once you're down to that last splash of essential oil, things can get scary.