When shopping for furniture, most people settle on brands offering ease and low-cost deals. If you want an eco-friendly option, it's difficult to find a chic piece that won't break the bank. Emboldened by their desire to find a product matching their values of sustainability — and their decor style — Caitlin Ellen and Phantila Phataraprasit founded Sabai Design, a direct to consumer sustainable sofa brand.
Sabai's Essential Collection revolves around three main products: A sofa, sectional, and ottoman. They're hand built in High Point, North Carolina with recycled, natural, and FSC-certified materials. Cushions, fabrics, and legs are customizable, with color options ranging from neutral tones to a striking moss green. Fabric choices include recycled velvet made from 100% recycled water bottles. Best of all, Sabai will buy back your sofa at the end of its useful life.
We spoke to co-founder Ellen to learn more about the founders' journey to sustainability, what's next for the brand, and how they are navigating the challenges caused by COVID-19.
Hunker: Did you always want to start a business like this?
Caitlin Ellen: Between the two of us, I'd say Phantila is definitely more entrepreneurial-oriented, though we are both very visual and did a lot of creative activities growing up. We first worked together on a student credit union when we went to Columbia University. That was my first foray into building something from the ground up. And then Phantila and I lived together in a communal house, which fueled our interest in sustainable living. We started doing CSAs and composting, and became really focused on ways to alter our life to be more considerate to the planet.
Hunker: Was the communal house your first experience with sustainable living?
CE: I grew up with the mindset that the best thing you could do for the planet is to eat less meat. I was a vegetarian for a couple years, and now I just don't eat meat or any dairy products during the week. In terms of making it more of an all-encompassing lifestyle, that has been growing since Phantila and I were seniors in college. It was then that we decided to make it more of a commitment rather than a one-off thing.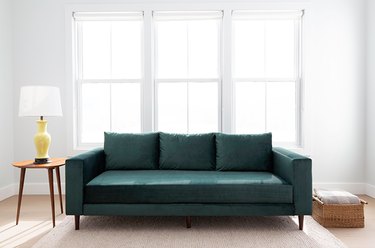 Hunker: That's really relatable. It's nice to know that it was a process, and not a sudden change.
CE: That's what we want to communicate to our audience. It's not an all-or-nothing thing. Thinking that way makes sustainability this inaccessible goal, which intimidates people. For me, it's about taking things step-by-step and doing what's best for you at the time. Rather than this big leap that feels very inorganic.
Hunker: Did you receive any pushback from the furniture industry?
CE: The U.S. furniture industry is very traditional. It's based in North Carolina, which is where we operate. They definitely feel comfortable with certain ideas and it's hard to get someone on board with a reinvention of the wheel. High Point [the largest home furnishing industry trade show in the world] happens twice a year, in April and October, and we kept showing up, trying to set up as many meetings as we could. We got rebuffed a lot, at first. People were afraid of knock-down furniture, or they didn't want to handle sourcing of all of the sustainable materials.
We had to put much of the onus on us, in terms of sourcing and taking on responsibilities that manufacturers usually take on. But you really just need one person to take a chance on you. And we really found that in M&M Upholstery, which is the factory we work with. They were willing to take a chance on us.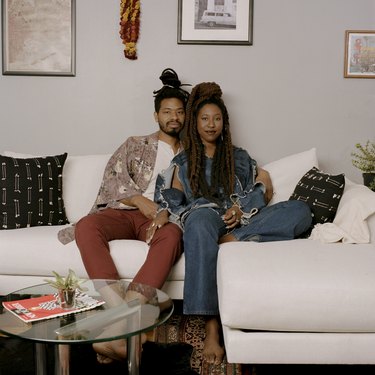 Hunker: Were there any companies or people you drew on for guidance and/or inspiration?
CE: There have been very successful sustainability-oriented companies that we wanted to emulate, like Impossible Burger, for example. They've done a really good job of making sustainability accessible, in terms of creating a plant-based meat substitute that provides people with a similar experience and none of the compromise. That was our goal with Sabai: to make sustainability easy and accessible, to offer it to you on a platter with none of the caveats.
Hunker: You and Phantila spent a year researching sustainable materials. Did you come across anything that shifted or expanded your mission?
CE: We want to create a product that has a really long life. And part of that is taking into account the end-of-life for that product, and how you can set it up to be reused or recycled. You want to prevent people from buying new products. That's where the big emissions and wastes come from, the production of items. One thing that's been interesting to us, for example, is if you use glue, you can't recycle those parts of the sofa. So we're coming up with ways that we can minimize our glue usage with the eventual goal of making our products 100% recyclable.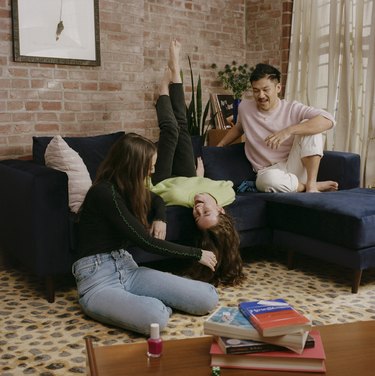 Hunker: One of Sabai's design philosophies is the importance of engaging your customers. For example, you often conduct polls on Instagram Stories to gauge preferences. How did you start integrating social media in this way?
CE: We wanted to make sure Sabai didn't just reflect our personal taste. We're not making a sofa for the two of us, we're making a sofa for everyone. We started to poll friends and family who were following us on Instagram to make sure they could see themselves in the design. As we've grown and gotten outside followers, these polls have become even more important. So much of social media is people wanting to feel involved with a person or brand's journey. This is a really good opportunity to allow people to feel like they have some ownership over the final product, while also feeling like the product reflects what they're excited about.
Hunker: How has coronavirus impacted your normal operations?
CE: Obviously, corona is a curse. We're experiencing the same challenges as other companies. Sourcing things and turnaround times have gotten really slow. Rightfully so, because you need to make sure that every person who is working along the process is safe and secure. You don't want to rush that. A fast sofa that ships to you in two weeks is not worth someone's death. At the end of the day, we want to make sure that everyone is safe and cared for as we try to navigate manufacturing during a pandemic. At the same time, since stores are closed, people are more willing to take a risk on online shopping since they can't try out a sofa in person. For once, being online only isn't a thing against us.
Hunker: Any advice to readers who want to incorporate sustainable practices into their lives?
CE: I know that a lot of people buy cheap and easy furniture because they know they're going to move and upgrade. But if you look for products that will grow with you, and that you know at the very least you will resell or recycle as you move on, I think that's a great start to buying with the planet in mind.