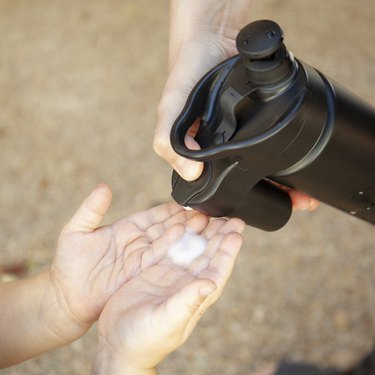 If there's been one message we've heard consistently throughout the coronavirus pandemic, it's this: vigorously wash your hands with soap and water. But we aren't always within easy reach of a sink, and hand sanitizer just doesn't cut through grime the same way. That's why Gabe and Cindy Trevizo created Suds2Go, billed as the world's first portable hand washing system.
At first, I was a little skeptical about the product. But then I thought about all the times I've spilled sticky foods or drinks on my hands while picnicking in the park (a pandemic pastime), or all the times I wished I could wash my hands after a hike (another pandemic hobby). I thought about the families who have kids running around outside, and the dog owners who might've gotten slobbered on by their pooch. So I decided to try it out.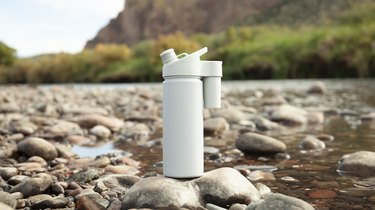 At its core, Suds2Go is a 25-ounce stainless-steel water bottle that has a little soap pump attachment, serving the dual purpose of keeping you hydrated and helping your hands stay clean. (The company also sells a standalone attachment that can be screwed onto disposable plastic water bottles.)
I was a little daunted by the number of moving parts on this water bottle — eight, per the instructions — but filling up the soap attachment was super easy. You simply unscrew the cylinder, pop out the reservoir, open up the container, and pour your foaming soap liquid in. It's super important to note that Suds2Go can only be used with foaming soap. The container reportedly holds about 65 to 75 pumps worth of soap, which is plenty, considering you really only need two or three pumps each time you wash your hands. Reattach everything and you're good to go.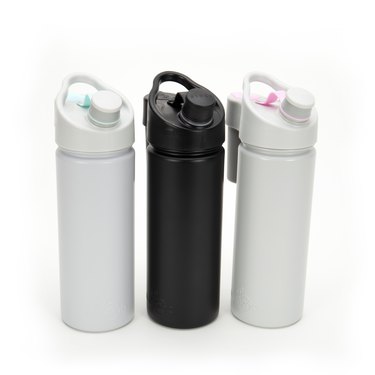 As for wetting your hands, you have two options. There's the standard spout which is technically designed for drinking, and there's a rinse valve that helps slow down and disperse the flow of water. Really, you should go for the latter to save water — 25 ounces goes quickly. When I flipped the bottle upside down, I was surprised at how little water dribbled out, but some trial and error proved that shaking the bottle lightly maximized the flow to the perfect volume.
Once my hands were wet, I pumped the soap and lathered up. Here's where I ran into a little bit of a problem: In order to rinse the soap off your hands, you need to pick the bottle back up, but both your hands are soapy! If you're by yourself, you'll just have to deal with getting your bottle all sudsy. The other problem is that you'll have to rinse one hand at a time. As such, I used a lot of water — about half the bottle. But hey, my hands were squeaky clean!
I then tried using Suds2Go while employing the help of my handy dandy fiancé to hold the water bottle. As expected, I used far less water — just a quarter of the bottle. Interestingly, I also noticed that the flow of water from the rinse valve was significantly stronger this time. A third test brought the flow back to the same trickle I experienced on my first go.
Ultimately, Suds2Go works. My hands definitely felt cleaner after washing with soap and water rather than hand sanitizer or a wipe. My only qualms are that it's not the easiest to use without a second pair of hands — and you'll definitely run out of water quickly if you need it for drinking and washing.
The full Suds2Go water bottle costs $36.99, which is pretty standard for stainless steel water bottles, while the Suds2Go caps, which screw onto disposable plastic water bottles, only cost $10.99. You can buy them both here.